Get Started with NatureServe Vista
---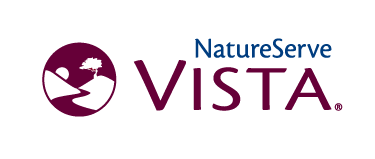 Vista is a broad and powerful decision support system that provides functions for many parts of the assessment, planning, and adaptive management process. This page gives you guidance on your initial steps and points you to our array of Vista-related resources.
Is Vista the right tool for me?
Vista is designed to support non-GIS and non-conservation managers (as well as experts) to assist conservation planning and integration of conservation with other assessment and planning activities. However, Vista covers a broad suite of functions. It therefore requires the support of experts to build the database and train users in its analytical and planning functions. Because Vista is designed to deliver defensible science-based planning—and thus requires subject matter expertise—it may at first appear complex to apply. No one likes to read software documentation, but spending a little time with the documentation will likely save you hours or even days of frustration.
Start with the Vista fact sheet and FAQs. The first two sections of the Vista user's manual offer guidance and examples to help you decide if Vista is the right tool for you. Also, scan our selection of case studies to see where we've used Vista to successfully manage conservation planning projects. NatureServe also provides complete technical support, training, and consulting services to get you started and keep you productive.
What do I need to run Vista?
Required:
  CPU Speed: 1.0 GHz
  Hard Disk: Space 100 MB (does not include the required Microsoft .NET framework 2.0)
  Memory: 512 MB minimum
Recommended minimum: Project area size and data resolution may increase computing requirements.
  CPU Speed: 3.0 GHz (multiple cores do not provide a performance boost)
  Hard Disk Space: 100 times larger than a raster of the scale and extent of the project (historically projects have ranged from 1 GB to 180 GB)
  Memory: 8 GB
Can I use a sample data set to get acquainted with the software?
The user's manual features a short tutorial that uses our sample dataset from Orange County, Florida. Explore the scenarios, scenario evaluations, and conservation value summaries that are already included with the dataset.
I understand that Vista is both a process and software. Can you help me understand and get started with the process?
Learn about the planning process we recommend for Vista in the introduction of the user's manual. It includes brief descriptions for applying Vista to a variety of common planning and assessment applications. Also take a look at the Guide to Soliciting Expert Input and the spreadsheet tool that we put together to help guide project managers through the process of soliciting expert input, a key part of the planning process.
Remember: every planning project is different. Depending on the nature of your project, some Vista inputs and results will be more important than others. Knowing what's important can help you focus your time and resources. Consider setting up a Vista Support Contract or another NatureServe service to help co-pilot you through some of the steps.
What are some additional resources that can help me expand the Vista's functionality?
Under the Other Useful Tools section we offer links to software that Vista is designed to interoperate with, including Marxan (for spatial planning and optimization) and NOAA's N-SPECT (for water quality). We also offer and continue to build tools that add functionality when used with Vista. Vista's ability to interoperate with tools is very broad and we have documented a number of toolkits; please see related publications for more information on the main Vista page.