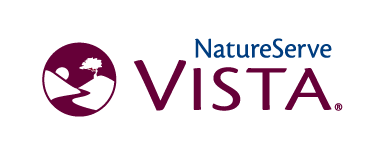 Do you have lingering questions about NatureServe Vista? Or maybe you just want more detail? The answers to these Frequently Asked Questions should cover everything you need to know about this powerful and versatile tool. 
The focus of Vista's methodology and software is biodiversity, but the Vista framework has the power and flexibility to allow users to conduct conservation planning for other culturally valued elements, including:
Non-threatened species of economic and cultural importance
"Heritage" trees of specimen size and age
Archaeological sites
Historic farms
Scenic view areas or features
Prime agricultural areas
Characteristic natural areas lacking conservation quality for biodiversity or legal protection
In order for a culturally valued element to be considered for inclusion on the list of elements evaluated in planning for the region, the element must meet a set of criteria designed to ensure that the element has the necessary attributes for conservation planning analyses. These include: 1) element can be mapped with distinct spatial boundaries, 2) element can be attributed like other biological elements in terms of viability/integrity of occurrences and data confidence, 3) element can be weighted in conservation importance relative to other elements, 4) element can have quantitative representation goals and 5) element is compatible with the other biological elements conserved at the same location.
Vista was designed to operate at multiple scales, from small local applications to larger regional ones. Because spatial analysis is sensitive to data resolution, the main issue is whether you have sufficiently precise data to support your scale of analysis.
A variety of skills will be needed to effectively implement the full range of functions available in Vista. Individuals may possess more than one skill, so the following list should not be interpreted as representing the number of team members required. Needed skills also depend on the analyses to be performed. A general list of desired skills would include: project coordination and management, geographic information services, data management, metadata documentation, terrestrial ecology, terrestrial zoology, aquatic ecology, aquatic zoology, and non-biological domain expertise such as farmland conservation, archaeological sites, etc.
By far, the most time consuming step in the planning process will be the priority setting and data gathering phases that are preliminary to actually using Vista. How Vista will be used can have a great influence on the type of data required and tailoring the database to user needs will save time and money. Most projects begin with collecting information: what questions do you hope to address using Vista and what data are required to answer them. Data typically required include geographic information system (GIS) data layers and stakeholders values. The actual processing time for individual analyses will vary, depending on the complexity of the problem you are attempting to address, the precision of your data sets, and the overall size of your planning area.
Check the system requirements page for this information.
100 MB of hard-disk space is required to install Vista. An additional 200 MB is needed for Microsoft's .NET framework 1.1, which is required to run Vista. Like other GIS applications, Vista will also require additional hard disk space for data storage. The amount required will depend on the size of your application and the amount of data involved.
NatureServe offers individual licenses of Vista. Site licenses are not available at this time.
Geographic information system (GIS) layers form the backbone of the Vista database, but additional non-spatial information is also required, including weights indicating social values and goals for element conservation. The scale of the data and attribute detail will determine the types of analyses that can be done and the precision of the results. The following list summarizes the basic types of inputs:
Planning region reference information (boundaries, streams, roads, place names, topography, digital orthophotos, etc.);
Element distribution maps (NatureServe heritage network element occurrences, fish and game species habitat maps, vegetation cover maps, modeled distribution maps, scenic views, historic sites, etc.);
Element occurrence attributes (viability, integrity, confidence);
Element information (name, weight, goal, conservation unit, minimum required area, etc.);
Existing land use map; and
Current land use and management policy maps (zoning, public land management plans, etc).
The amount of data needed is dependent upon the questions you want to answer and the level of precision that you require. Vista does not require any more or less data than any other valid approach.
Vista provides all-inclusive data model that can incorporate data from a number of different sources. Local and federal government agencies and conservation organizations are one good source of data. NatureServe's network of member programs, a leading source for information about rare and endangered species and threatened ecosystems, is another important source of data. We are happy to put you into contact with a representative from one of our local member programs so that you can learn more about the data that these organizations can make available to you.
NatureServe offers expertise in GIS mapping, data management, and conservation planning to help you develop a Vista project that meets your planning requirements. Expert assistance is available to help you with every step in the planning process, from data development to advanced scientific analyses. For more information about the services we offer, contact Patrick Crist.
To schedule training for your organization, contact Patrick Crist.
You must have a current support services contract to enter the Help Desk. If you are not a support services client but would like to report a bug or suggest a feature or improvement, email to our support services.
Vista has been applied in Arkansas to help a major timber company identify forest stands with high conservation values. It has also been used in Orange County, Florida to assist with a community-based planning process. In that application, Vista was used to identify areas with significant conservation value and resulted in strong community support for moving a major new development corridor in order to preserve some important upland habitat. Other applications include its use in Missouri, Napa County, CA and Puerto Rico. We are currently working on projects that apply Vista in Colorado, Wyoming, Texas, Alberta, Canada, the Amazon River basin, and Brazil. For more information about these applications, see our case studies.
Pre-recorded and downloadable demonstrations are available here. Custom demonstrations can be arranged for large organizations interested in potential broad adoption and support services. To schedule custom demonstrations, contact Patrick Crist, Director, Conservation Planning and Ecosystem Management.