NatureServe Surveyor
Comprehensive Screening for At-Risk Species
---
Overview

Knowing what resides within the boundaries of a project area is a critical first step in any planning activity. Leveraging the best-available species data from across the United States and Canada, NatureServe Surveyor allows you to screen for the known presence of threatened, endangered, and other at-risk plants and animals in the earliest stages of your planning, due diligence, project selection, assessment, and review processes.
Value
NatureServe Surveyor can improve efficiency and streamline documentation of any project with a substantial environmental footprint. This innovative web application allows planners, foresters, resource managers, environmental consultants, and developers to determine whether known populations of at-risk species intersect with where they are working across the United States and Canada.
Features & Benefits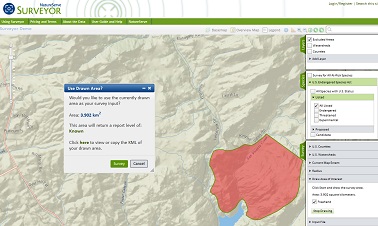 NatureServe Surveyor allows you to:
Discover which at-risk plants and animals are present within your county, watershed, ecosystem, or your own defined planning area
Draw or upload a custom shape and determine if it contains known occurrences of species with legally protected status under the U.S. Endangered Species Act (ESA) or Canadian Species at Risk Act (SARA)
Tap the best source for local information and expertise about at-risk plants and animals
Get results for more than one jurisdiction from a single source (even with a single query!)
How It Works
NatureServe Surveyor compares an area you select on the interactive map against our Network's federated data and tells you whether an at-risk species is known to occur in that area. Each survey returns its own report that you can print, save, and include in your project documents.
The size of your project area determines the amount of information your survey returns—the larger the area, the more detailed the information you'll obtain about the plants and animals known within it.
Surveyor provides these data on a subscription basis.
Currently the Surveyor web application is undergoing redesign but you can also access NatureServe Surveyor as a web service, seamlessly integrating survey results into your own applications.  Contact Surveyor@natureserve.org for more information.