NatureServe Canada Annual Report 2017-2018
---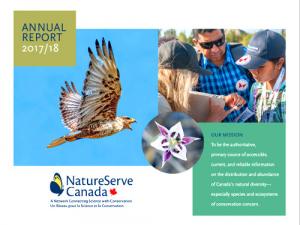 NatureServe Canada's Annual Report for 2017-18 provides an overview of key activities and accomplishments of the NatureServe Canada Network as well as summary financial information.
NatureServe Canada began the fiscal year by hosting the international NatureServe Biodiversity Without Boundaries conference (Ottawa, April 2017) during which we released our On Guard for Them: Species of Global Conservation Concern in Canada report. The conference and media attention garnered by the report broadcasted our biodiversity science message and information to a wide audience—an exciting start to a productive year.
A big thank you to our members and partners for another great year of collaboration. Happy reading!
Patrick Henry, NatureServe Canada Executive Director