2018 Southeast Biodiversity Conservation Forum
---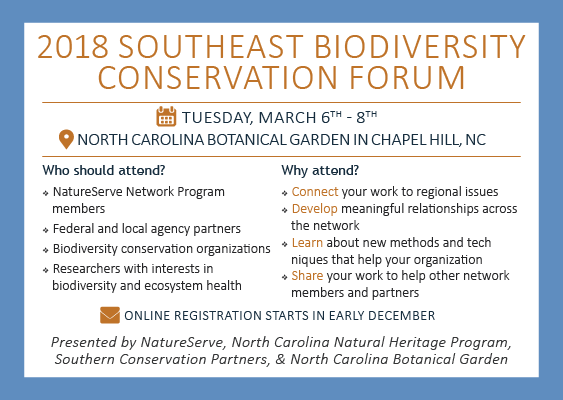 The Southeastern U.S. is the most biodiverse region in the US, but also faces the most severe threats to that biodiversity.  Our Southeast regional gathering will bring together key experts on biodiversity from all over the Southeast to develop strategies to better understand the at-risk species and ecosystem of this region and their status so we can ultimately do a better job of protecting their populations against these threats.
Every state in the Southeastern U.S. has a natural heritage program with a knowledgeable and committed team of scientists, but nature doesn't stop at state boundaries, so cooperation is important to realize the shared goal of preserving the biodiversity of our region.  Natural heritage program strengths vary across the disciplines, and new technologies and techniques abound; this exchange will allow these experts to share their experiences and increase their knowledge and abilities through direct face-to-face contact.
Online registration opens in early December; stay tuned for more information regarding registration, presentations, and more! The price for the three-day meeting is $125, with an additional $25 for fieldtrips (optional).