2018 Southeast Biodiversity Conservation Forum
---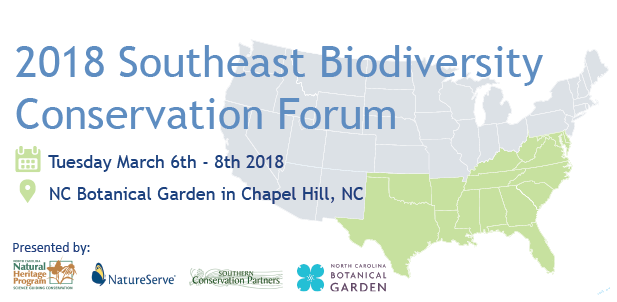 Presented by NatureServe, North Carolina Natural Heritage Program, Southern Conservation Partners, and the North Carolina Botanical Garden
2018 Southeast Biodiversity Conservation Forum
In partnership with the North Carolina Natural Heritage Program, NatureServe,
Southeast Conservation Partners, and the North Carolina Botanical Garden
North Carolina Botanical Garden
Chapel Hill, NC
6-8 March 2018
The Southeastern U.S. is the most biodiverse region in the US, but also faces the most severe threats to that biodiversity.  Our Southeast regional gathering will bring together key experts on biodiversity from all over the Southeast to develop strategies to better understand the imperiled species and ecosystems of this region and their status so we can ultimately do a better job of protecting their populations against these threats.
Every state in the Southeastern U.S. has a natural heritage program with a knowledgeable and committed team of scientists, but nature doesn't stop at state boundaries, so cooperation is important to realize the shared goal of preserving the biodiversity of our region.  Natural heritage program strengths vary across the disciplines, and new technologies and techniques abound; this gathering will allow these experts to share their experiences and increase their knowledge and abilities through direct face-to-face contact.
Click here to register now! The deadline to register is February 9th--please register before this date so that we can plan accordingly with our caterer and the event space.
Schedule
The conference will begin with a half day on the afternoon of Tuesday, March 6, followed by an evening reception. Wednesday, March 7, will be a full day of workshops, trainings, and presentations with lunch provided. Thursday, March 8 will begin with a half day of trainings, with the option to attend local field trips in the afternoon.
View the full schedule of events here
Fieldtrips: The last day of the conference, Thursday March 8th, will conclude with an afternoon of various local fieldtrips. Fieldtrips are optional and an additional $25. Detailed descriptions of the field trips can be found on the last page of the full conference agenda.
North Carolina Botanical Garden and Mason Farm Biological Reserve: Led byDan Stern, Heather Summer, Chris Liloia, Johnny Randall, and Neville Handel. 1:00 – 4:00 PM
Weymouth Woods:Led by Alan Weakley and Wes Knapp, 12:30-6:00 pm 
Deep River:  Led by Scott Pohlman and Judy Ratcliffe, 12:30 – 6:00 PM 
Occoneechee Mountain State Natural Area:Led by Misty Buchanan and Nathan Shepard 1:00 – 4:30
Swift Creek and Hemlock Bluffs: Led by Michael Schafale, Ecologist, 1:00 – 5:00 PM
Willie Duke's Bluff Wildflowers: Led by Milo Pyne, Ecologist 1:00 – 5:00 PM
Speakers
Tom Earnhardt has worn many hats. An attorney with experience in government, corporate, and private practice, Tom also had over 20 years in the classroom and retired as a full professor. An ardent naturalist and conservationist, Tom has served on numerous conservation boards, including The Nature Conservancy (TNC), Trout Unlimited, Audubon North Carolina, the NC Museum of Natural Sciences, and the North Carolina Botanical Garden. Over the past 14 years he has written, hosted, and coproduced approximately 80 episodes of the UNC TV series "Exploring North Carolina." His most recent book, Crossroads of the Natural World, highlights the natural diversity of North Carolina. For his work in conservation Tom has received numerous awards including: the 1994 North Carolina Conservationist of the Year, the Order of the Longleaf Pine (2013), the 2016 Ney Landrum Park History Award, and the 2016 Flora Caroliniana Award from the North Carolina Botanical Garden.
Sam Pearsall spent his career as an ecologist working with conservation organizations in Maine, Tennessee, Hawaii, and North Carolina. Most notably, he has served as the director of the Tennessee Natural Heritage Program, Director of Science and Roanoke River project director at The Nature Conservancy North Carolina chapter, and climate change program director at the Environmental Defense Fund. Since retiring in 2013, Sam has been able to cultivate his lifelong talent for storytelling. He has won first place at The Monti StorySLAM twice and has been a featured teller for many other events including Front Porch Stories, The Nature Conservancy Roanoke Celebration, and the NC Audubon Society Gilbert Pearson Dinner. He is a producer and featured teller of Roadhouse Storytellers in Pittsboro, NC. In his free time, he continues to do volunteer work on Roanoke River conservation issues.
Alan Weakley has been with the University of North Carolina Herbarium (NCU) since 2002, first as Curator then as Director (2006).  He is Adjunct Faculty in the Biology Department at the University of North Carolina Chapel Hill. In the 80s and 90s, Alan served as ecologist, botanist, assistant director, and acting director for the NC Natural Heritage Program, followed by five years at The Nature Conservancy and two years as NatureServe's chief ecologist. Highlights of his ongoing work include seats on the board of directors for the Flora of North America project and on the Ecological Society of America's panel overseeing development of the U.S. National Vegetation Classification. In 2015, he was named NatureServe's 2015 Morse Botany Fellow, focusing on conservation status assessments for high-priority species across the Southeast.
Bill Finch, author of Longleaf, Far As the Eye Can See and a well-known regional writer and media host, is working with federal and state agencies and NGOs to address conservation issues in Alabama and along the Gulf Coast. Bill was formerly Alabama conservation director for The Nature Conservancy, director of Mobile Botanical Gardens, and a managing editor with the Mobile Press-Register. He has won numerous regional and national awards for his writing on conservation and environmental issues. Bill works to conserve biodiversity in the Southeastern United States and actively blogs on the EOWBF website. He is working with the E.O. Wilson Biodiversity Foundation in support of the creation of a Mobile-Tensaw Delta national park unit.
Caterer
The conference will be catered by Vimala's Curryblossom Café, a local Chapel Hill Restaurant with a mission to ensure wholesome and healthy food for all people, regardless of income.
Lodging
There is a special event rate for rooms at the Courtyard by Marriott Chapel Hill and Aloft Chapel Hill, both less than a 10 minute drive from the Botanical Garden. To book either of these, call the hotel of your choosing and inform them that you wish to reserve lodging for the Southeast Biodiversity Conservation Forum.
Courtyard by Marriot Chapel Hill (919) 883-0700
100 Marriott Way | Chapel Hill, NC 27517
Rate applies to March 5-9. The last day to book is February 4, 2018. 
Book your group rate for Southeast US Biodiversity Conservation Forum.
Aloft Chapel Hill (919) 932-7772
1001 South Hamilton Road | Chapel Hill, NC 27517
Rate applies to March 6-8. The last day to book is February 15, 2018.
For attendees lacking adequate travel budgets, a limited number of spaces are available for people to be hosted in homes of local Network members (for free). If you wish to be hosted locally, please send your contact information to allison_kenlan@natureserve.org. A conference organizer will contact you to arrange lodging.