Core Methodology Training
---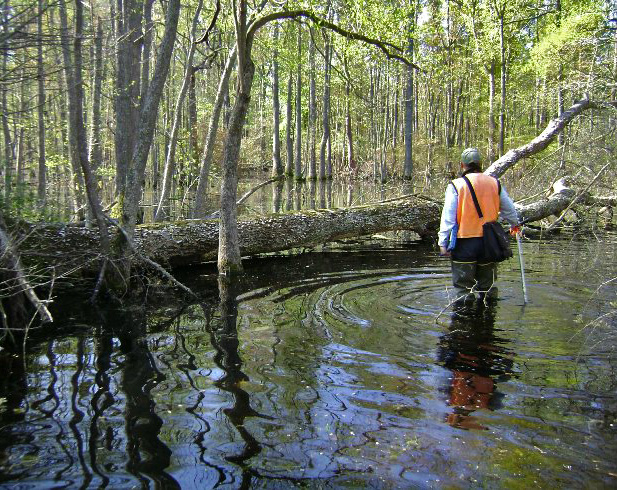 What is Core Methodology Training?
Core Methodology Training or CMT introduces participants to standards, methods, tools, practices, and people that are "core" to the success of the NatureServe network, and facilitates a sense of camaraderie with the rest of the network, and passion for our important work.
The training will offer three days of learning, including:
a day "in the field" learning about and practicing data collection, assessment, and monitoring techniques
a day utilizing the information collected to complete mapping and ranking exercises
a day at BWB mingling with conference attendees, hearing stories from the field, and learning about the "hot topics" being discussed across the NatureServe network
Should I attend?
You should attend CMT if you are a recently hired (ideally within the last year) employee of NatureServe or a NatureServe member program (regardless of your position), or if you are a partner organization working with NatureServe and/or a NatureServe member program, and want to learn more about the core methods that are utilized across the NatureServe network.
When?
Core Methodology Training (CMT) will be held on Saturday, April 5, 2014 starting at 8:00 AM through Monday, April 7, 2014 at 3:00 PM.
How does Core Methodology Training relate to the BWB conference?
You can attend the CMT without attending the full BWB conference. CMT does include two days of training in Covington, LA, and then attendance at the first day of the BWB conference (we will provide transportation from Covington to New Orleans on Sunday night). We recommend that you stay for the entire day on Monday at BWB, but the required CMT sessions will end by 3pm in case you need to travel home on Monday. If you are interested in attending an additional day at BWB, or the entire BWB Conference, please register here: https://connect.natureserve.org/training/BWB2014.
For questions about Core Methodology Training contact Shara Howie, and for questions about the BWB conference contact Don Kent.
Transportation
We will arrange a few shuttles for Friday, April 4 to take you from the airport to the Residence Inn Covington. Please include the time and date you are arriving at the airport on your registration form since we will use this information to book the shuttle departure times. We will email you the shuttle departure times a few days prior to April 4.
If you do not take the shuttle it is about $100 to take a taxi or shuttle on your own. The hotel recommends Mandeville Cab 1-985-705-4222 or Airport Shuttle New Orleans 1-866-596-2699. Contact Pat Leighty at pat_leighty@natureserve.org or 703.908.1083 to get a list of attendees that are arriving around the time you are arriving.
Lodging
On Saturday and Sunday CMT will be held at:
Residence Inn New Orleans Covington/North Shore
101 Park Place Boulevard
Covington, LA 70433
United States
Contact Residence Inn Covington at: 1-985-246-7222 (hotel direct) or 1-800-331-3131 - mention "NatureServe Room Block" before March 14 for discounted room rates.
On Monday CMT will be held at:
Hotel Monteleone
214 Royal Street
New Orleans, Louisiana 70130
United States
1-800-217-2033
Contact Hotel Monteleone New Orleans at: 1-800-217-2033 - mention "Biodiversity without Boundaries" before March 13 for discounted room rates. Contact Pat Leighty at 703-980-1803 if no rooms are available at Hotel Monteleone.
CMT Event Fee(s)
NatureServe and Member Program Staff $ 750
Partner Organizations $ 1,000
Fees include two days of training, attendance at the first day of BWB (where there will be two CMT required sessions), and lunch and dinner on Day 1(Saturday). Breakfast each morning is included in the hotel room rate. Also, transportation will be provided from Covington to New Orleans on Sunday night (April 6), and we hope to have shuttles from the airport to Covington available on Friday, April 4. We recommend that you budget $100 for ground transportation in case shuttles are not available on Friday.