NatureServe releases SeedSmart web app
Planting native species in a climate-smart way
---
FOR IMMEDIATE RELEASE
November 22, 2017
NatureServe releases SeedSmart web app: Planting native species in a climate-smart way
ARLINGTON, VA – NatureServe, an international biodiversity conservation organization, has developed SeedSmart, the first of its kind, all-in-one web application that guides land restoration decisions for environmental professionals across the spectrum, from those planting trees to revegetate an area, to those restoring a more functional ecosystem. The tool is compatible with any smartphone or browser and allows users to navigate to a site and determine the mix of native species to plant, using existing maps and site information. Then, they inform their decisions using climate trend data.
Funded by the Alcoa Foundation, SeedSmart makes it possible for land managers to answer basic questions about the sites they are trying to restore. Some of these questions include: which species are native here? What are the important soil characteristics I should know about? Which plants grow best in this setting? Which plants will be more likely to thrive under changing climatic conditions?
Don Faber-Langendoen, NatureServe Senior Ecologist of Northeastern North America, remarks, "When restoring a site with native species, it's hard to know where to begin - there are so many choices. This tool allows users to zoom in to the local ecosystem, and identify the mix of native species that are best suited for the site.  In this way, restoration not only benefits the site being restored but also helps heal the surrounding landscape."
This current beta version of SeedSmart focuses on the ecosystem types in the Appalachian Ridge and Valley region which spans across nine states. Nicholas Moy, NatureServe's Communications and Design Specialist, adds, "Since these ecosystem types reach beyond the Smokies, we anticipate that the SeedSmart tool will help with the "climate-smart" restoration of over 2,000 acres with over 40,000 trees, and will catalyze a quick uptake with expansion to other ecoregions."   
The way SeedSmart works is simple.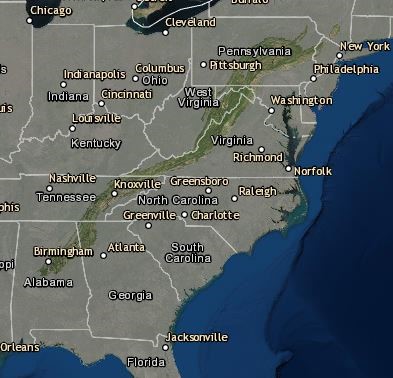 1)            Using your location, SeedSmart identifies the ecosystem types currently mapped for your site. 
2)            User inputs characteristics of the site, such as current characteristic species present, whether it is on a steep slope, shows evidence of flooding, etc., to further narrow the list of ecosystems that fit the site
3)            SeedSmart provides a description of the best fit ecosystem with pictures and its most common plants
4)            SeedSmart determines the "climate-smart" locations of the selected ecosystem, to help users improve their selection of species and identify areas for sourcing seeds to restore the site with.
5)            The result? A map of areas where the target ecosystem exists with a climate that has been trending in the same way as your restoration site!   
Currently, NatureServe is seeking SeedSmart beta testers in the Ridge and Valley of the Appalachians, which spans from central Pennsylvania to West Virginia through Maryland, Virginia, Tennessee, Georgia, Alabama, and parts of New York and New Jersey. In the future, the tool is designed to expand to other regions of the United States and Canada. As SeedSmart has not yet been fully tested in the field, the beta testers will serve as the pilots of this premiere release, and would provide feedback of the tool when used in the Ridge and Valley areas.
Would SeedSmart be valuable for the work you do? Try out SeedSmart tool as a beta tester by visiting https://SeedSmart-beta.NatureServe.org/  and afterward, please send your comments on your experience after using the tool directly to SeedSmart@NatureServe.org     
Learn more about SeedSmart here.
About NatureServe
NatureServe is an international non-profit biodiversity conservation organization comprised of 86 Network Programs encompassing more than 800 biodiversity scientists who discover, innovate, and conserve over 70,000 species and 7,000 habitats in the Western Hemisphere. The NatureServe Network collects accurate, real-time data about imperiled species and entire ecosystems, transforms the data into knowledge products and visualizations, and provides meaning through expert analyses to guide decision-making, implement action, and enhance conservation outcomes. NatureServe diligently keeps its finger on the pulse of the planet, providing decision-quality knowledge to ensure the preservation of species and natural communities. Website: www.natureserve.org   
Media Contact:
Buchi Akpati, NatureServe
Office: 703-908-1861
Email: Buchi_Akpati@natureserve.org