NatureServe Vista 3.0 for Esri ArcGIS 10.x release
Free decision-support software now supports state- and ecoregional-sized projects
---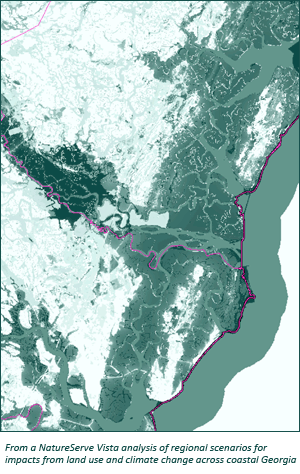 NatureServe has just released NatureServe Vista® 3.0, a major update to this powerful, flexible, and free decision-support extension for Esri ArcGIS 10.x.
NatureServe Vista is a scenario-based desktop application that allows users to weight and integrate diverse values and goals, making it suitable for complex projects that integrate multiple conservation elements, objectives, and land-use scenarios including climate change.
By explicitly mapping potential cumulative impacts, NatureServe Vista can help planners, resource managers, scientists, and conservationists identify and evaluate the effects of alternative scenarios within existing economic, social, and political contexts. Users can create, analyze, implement, and monitor management and development options for land use and transportation planning, energy and infrastructure development, and natural resources and ecosystem-based management in and across any environment from terrestrial to freshwater and marine.
The NatureServe Vista 3.0 update adds several new features that improve its capacity to evaluate the impacts of management scenarios on land use and conservation goals, including:
Full ArcGIS 10.x compatibility
Support for state- and ecoregional-sized projects
An updated landscape condition model
Improved scenario evaluations that now incorporate condition model results as well as element compatibility scores
The ability to package a project to a ZIP file directly within the application
The ability to clip and package projects to a sub-area boundary
The ability to export all project layers to an ESRI ArcGIS mpk file.
Support for simultaneous editing of multiple elements
Direct import of raster-format element distribution maps
Flexible shapefile imports, which allow users to select individual input columns and customize labels
NatureServe Vista is a framework tool that works with and integrates information from many other tools. Version 3.0 remains fully compatible with Marxan. A step-by-step export wizard enables users to "generate solutions" and create input files needed for Marxan. Users can also import Marxan results through Vista's "capture results" function.
NatureServe Vista 3.0 is free for users to download at www.natureserve.org/vista, where registered users can access additional resources that include FAQs, detailed guides, and details on other companion tools. Registered users receive notifications on new updates, which typically occur two to three times a year.
While the application is free and easy for GIS users to learn and apply, NatureServe offers a complete range of support services for Vista, including technical support, live and online help desks, training programs, and other conservation planning and ecosystem-management consulting services.