NatureServe Vista 3.3.3 for ArcGIS 10.3 Released
Free decision-support software now supports state and ecoregional-sized projects
---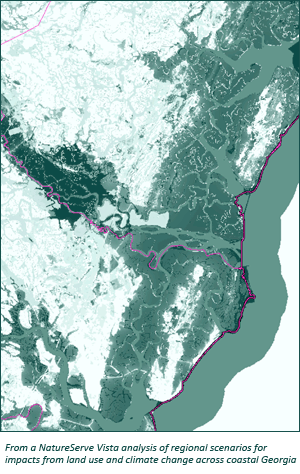 NatureServe announces the release of NatureServe Vista™ 3.3.3, which adds several new features.
Vista outputs are now in TIF format instead of GRID. This provides greater interoperability with other software, ability to use longer filenames, and is expected to improve overall stability.
The ability to pre-run LCM models in scenario evaluations has been added, allowing users to cache this information and reduce the time needed for the evaluation itself.
Users should notice performance improvements to CVS, Element, and Scenario processing
More information being recorded by Vista logging in Verbose and Info modes, including date/time of start/finish of analyses
Bug rounding rasters fixed. A bug was found that rounded floating rasters to integer values. This impacted CVS and potentially other evaluations by converting values between 0 and 1 to either 0 or 1. We recommend refreshing CVS and scenario evaluations of existing projects.
We are planning another release in Spring 2018 that will support applications during our complete modernization. NatureServe is committing approximately $500,000 to completely rebuild Vista from the ground up. We will be issuing a survey shortly to get our users' input on what and how Vista can do to support your applications.
NatureServe offers complete support services, including technical support, live and online help desks, training programs, and other conservation-planning and ecosystem-management consulting services.
NatureServe Vista is currently free to download for non-commercial use at www.natureserve.org/conservation-tools/natureserve-vista, where registrants can access additional resources, including FAQs, detailed user guides, and details on other companion tools. Registered users of Vista receive notifications on new updates, typically 2-3 times per year.
Commercial users, please refer to the license agreement after downloading Vista to ensure compliance with its terms. Commercial use of NatureServe Vista is defined as any use of the software for a 3rd party that is compensated monetarily, regardless of the nature of the organization using the software (including non-profit, government, or academic institutions providing services to others using NatureServe Vista for any monetary compensation).