Bat Conservation International joins the NatureServe Network
NatureServe's first Associate Member is also first to focus on specific species
---
NatureServe today announced that Bat Conservation International (BCI) has become the first Associate Member of the NatureServe network, extending a strategic relationship between the two organizations to advance scientific understanding of bat conservation.
Bats are essential contributors to healthy, functioning ecosystems throughout the world, comprising more than 1,300 species on six continents. The services that these flying mammals provide—pest control, plant pollination, and seed dispersal—are worth hundreds of billions of dollars a year and make them essential to agriculture, forestry, and human health. Yet habitat destruction, invasive species, and other threats are causing bat populations to decline and weakening the resilience of natural ecosystems.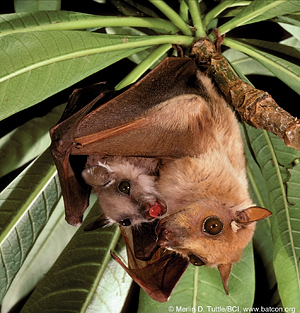 By joining the NatureServe network, BCI gains access to scientific and technical expertise needed to build a global database for bats. NatureServe provides expertise in species and habitats across the Western Hemisphere along with tools that help manage biodiversity data anywhere in the world. The partners anticipate that their collaboration will:
Help accelerate scientific research on bat conservation issues
Draw attention to those bat species most at risk of extinction
Identify places that harbor high levels of bat diversity
Connect BCI's network of specialists with decision-makers whose actions impact bats and their habitat
BCI is the first NatureServe network member to focus on specific species over a broad geographic range. BCI's concentration on all things Chiroptera complements the work of NatureServe's existing network of biodiversity information centers, which track all species and habitats within a specific geographic area. By acting as a conservation data center for bats, BCI will collaborate with other databases, conservation groups, researchers and scientific networks around the world to contribute scientific information to NatureServe's core database. The result will enhance the quality and usefulness of NatureServe's data and tools in prioritizing conservation, making land-use decisions, and detecting early declines in bat populations. 
This pairing taps the strengths of both organizations: BCI's extensive network of bat conservation experts and NatureServe's emphasis on providing the tools, data and expertise that inform land use and natural resource management. BCI has previously worked with the NatureServe network to recover endangered bats in the United States, for example, by using its research on bat hibernation and movements to convey the magnitude of the threat posed by White-nose Syndrome, a novel disease decimating bats across the United States and Canada.
"I cannot think of a better collaborator than BCI to be NatureServe's first Associate Member," said Mary Klein, president & CEO NatureServe. "Their 30-year track record in research, education, and habitat management has helped ensure that bats continue their essential role in maintaining healthy ecosystems."
"Through this exciting new partnership, BCI will work with scientists and conservationists around the world to develop the first global database of bat populations, their status, and their conservation needs," said Andrew Walker, Bat Conservation International's Executive Director. "Together, we hope to fill many of the gaps in our knowledge about these beneficial animals and to maximize the impact of bat conservation efforts worldwide."
Bat Conservation International is a nonprofit organization with members in 60 countries and a growing range of international partners. Founded in 1982, BCI uses science, education and conservation action to protect bats and their habitats around the world. Learn more about bats and their critical role in maintaining healthy ecosystems and human economies at BCI's website: www.batcon.org.