Disappearing Pollinators
112-year Assessment of Hawk Moths in Northeastern United States Reveals Population Decline in over 35% of Studied Species
---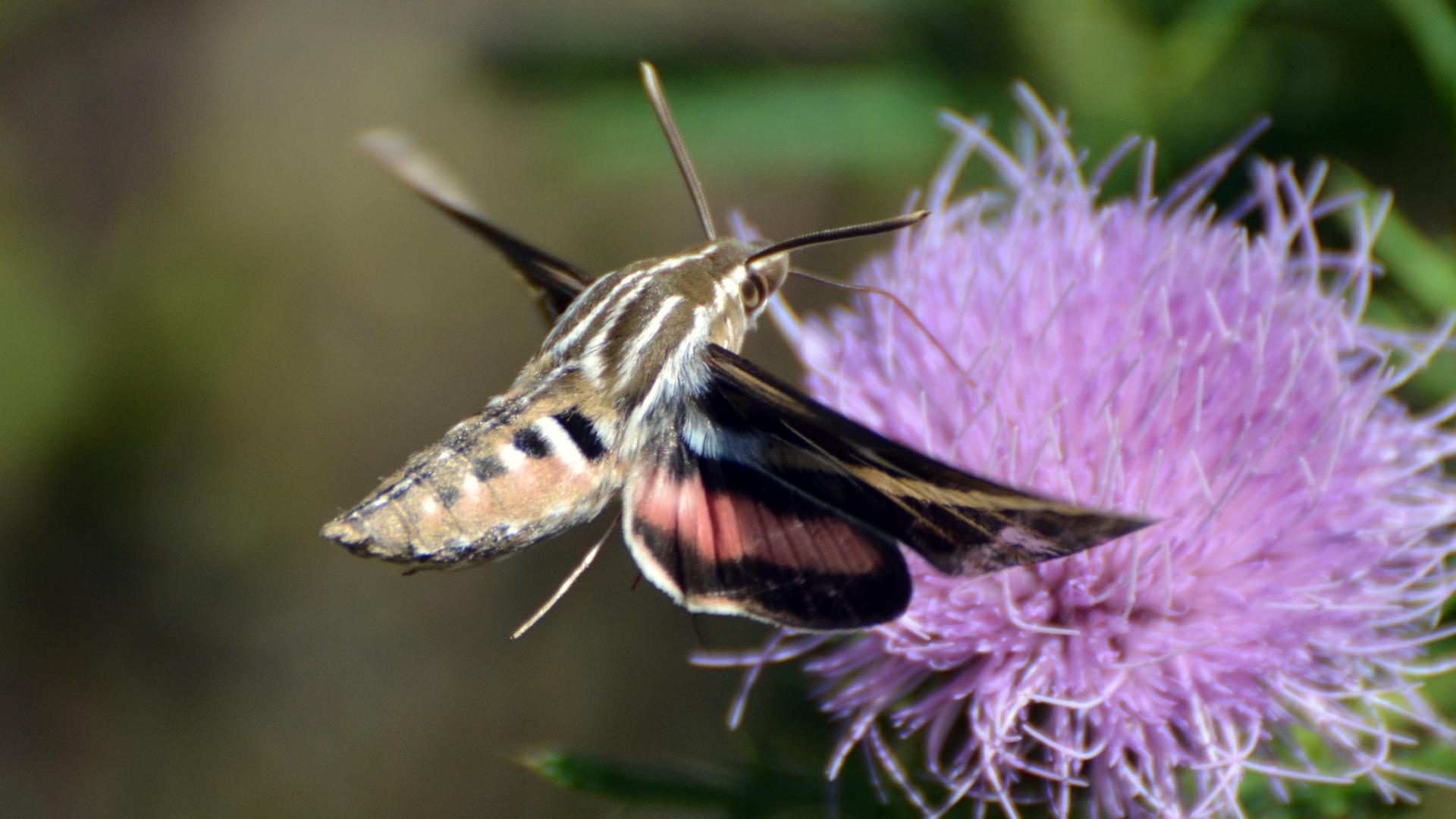 ARLINGTON, VA – Moths usually go unnoticed, except perhaps when flying erratically around your porchlight, or when you notice small holes in a sweater hanging in your closet. Because moths work the night shift, they receive relatively little attention compared to their daylight cousins, butterflies. However, moths play a crucial role in the web of life. Hawk moths are large, powerful fliers that pollinate rare orchids and lilies, and provide food for birds. They are one of the few flying organisms able to hover in place, a behavior that allows them to pollinate flowers on the wing.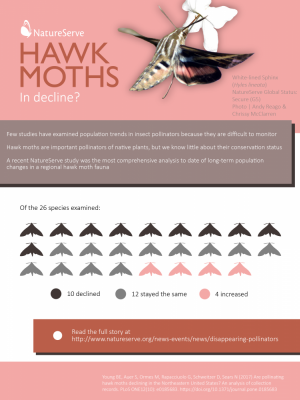 In one of the most comprehensive analyses of long-term population changes in hawk moths ever conducted, NatureServe scientists studied 26 species of pollinating hawk moths in the Sphingidae family, using museum and private collections, to learn how populations in the northeastern United States have changed from 1900 to 2012. The study area included the six New England states (Maine, New Hampshire, Vermont, Massachusetts, Rhode Island, and Connecticut) and adjacent New York and New Jersey. NatureServe scientists utilized a statistical method that assessed over 6,600 records of the hawk moth specimens and controlled for the amount of effort that collectors invest in capturing hawk moths. Their study was published in the journal PLOS ONE, which you can read here.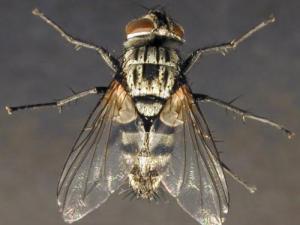 Out of the 26 species examined, 10 of them (~38%) were found to be in long-term decline or locally extirpated. One factor in the declines appears to be mortality caused by unintentional effects of a parasitoid fly, Compsilura concinnata, introduced to control the populations of gypsy moths. The more exposed a hawk moth species is to this insect, based on where and when its larvae feed, the more likely it is to be in decline. Changing agricultural practices and the decline of tobacco and tomato farming in the mid-20th century may have affected two hawk moth species, the five-spotted hawk moth and the Carolina sphinx.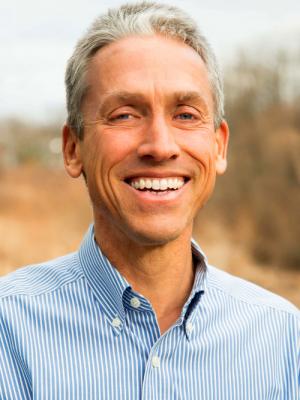 Dr. Bruce Young, NatureServe Director of Species Science, remarked, "These results are cause for concern about the ecological health of the habitats where these moths were once plentiful. Declines in moth diversity and abundance could lead to disruptions in the plant communities they pollinate, and to the predators that feed on them. For example, declines in whip-poor-will populations may be related to declines in the nocturnal insects they prey on such as hawk moths. Now that this hawk moth population analysis is available, state and federal land managers can focus their attention on species or populations where the threats are the highest. Also, species that we detected to be declining can be added to state lists of Species of Greatest Conservation Need."
As this study shows, concern over pollinator declines that began with bees and bumble bees should be extended to hawk moths. Our knowledge of native pollinator health is still far from complete, as the population trend of most of the thousands of bees, moths, butterflies, beetles, and flies that pollinate North American flowering plants remains unknown. 
Read the publication for a list of declining hawk moth species.
This study was generously funded by the Sarah K. de Coizart Article TENTH Perpetual Charitable Trust.
Population Trends in Northeastern Hawk Moths Webinar from NatureServe on Vimeo.
About NatureServe
NatureServe is a non-profit biodiversity conservation organization comprised of 86 Network Programs encompassing more than 800 biodiversity scientists who discover, innovate, and conserve over 70,000 species and 7,000 habitats in the Western Hemisphere. The NatureServe Network collects comprehensive information about imperiled species and entire ecosystems, transforms the data into knowledge products and visualizations, and provides meaning through expert analyses to guide decision-making, implement action, and enhance conservation outcomes. NatureServe diligently keeps its finger on the pulse of the planet, providing decision-quality knowledge to ensure the preservation of species and natural communities.
Media Contact:
Todd Parks, NatureServe
Office: 703-908-1850
Email: todd_parks@natureserve.org