Instituto Biotrópicos Becomes NatureServe's First Brazilian Member
---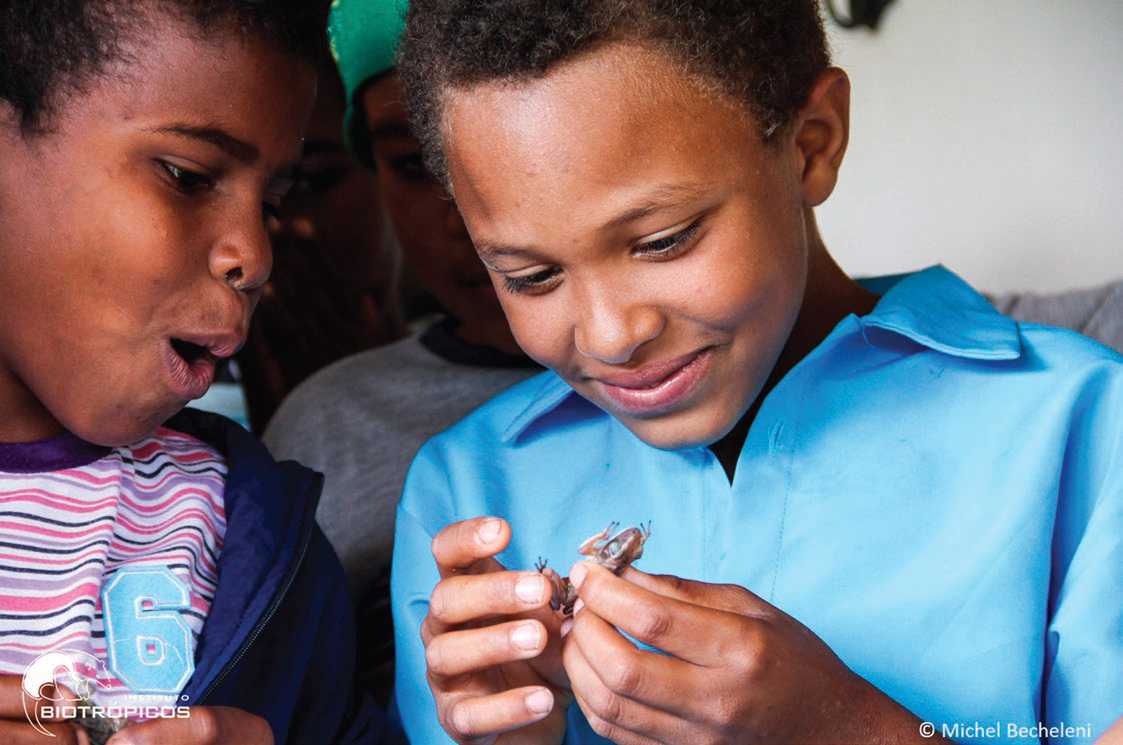 NatureServe's reach continues to expand with the addition of a conservation nonprofit that focuses on biodiversity in the Brazilian savannah—the NatureServe network's 18th member from Latin America and the first in Brazil.
Working throughout a mosaic of more than a dozen protected areas in the country's most developed region, Instituto Biotrópicos is gathering new data about the "cerrado" ecosystem that dominates Minas Gerais state in the southeastern part of Brazil. Biotrópicos has conducted first-time biodiversity surveys and monitoring, and has launched long-term ecological studies of vertebrates, invertebrates, and flora at 10 sites. Some of their work has highlighted the large mammals that inhabit the national parks there—tapirs, jaguars, marsh deer, and giant armadillos among them. The bulk of their work has centered on research and educational outreach to raise awareness of the region's fragile amphibians, including a frog species they discovered in 2012.
Biotrópicos is the first "contributing member" of the NatureServe network, a partnership in which NatureServe's tools, guidance, and expertise will be available to assist Biotrópicos's conservation efforts. NatureServe and Biotrópicos finalized the partnership in April, adding a dozen Brazilian scientists to the more than 1,000 conservation professionals that comprise the NatureServe network. The addition comes on the heels of Bat Conservation International becoming NatureServe's first associate member in November.
"We are thrilled to welcome Instituto Biotrópicos to the NatureServe community," said Mary Klein, former NatureServe president and CEO. "Their like-minded conservation efforts and dedicated researchers will add immeasurably to the growing strength of our network."
Guilherme Braga Ferreira, director of Biotrópicos, got to know NatureServe through a November leadership workshop in Peru. He quickly recognized the value of tapping into NatureServe's experience and expertise in how to develop knowledge, bring people together, and use scientific data to support governmental, corporate and conservation decisions.
"I saw lots of overlap with what we are doing here—though for us in a smaller scale, because we focus on the cerrado," he said. "We try to collect data in a standard way, and we are now discussing how we are going to share these data and make them usable for public policy."
The story of Biotrópicos dates back to 2003, when four biologists envisioned a conservation nonprofit that would function independently of the university-based work they had been doing in Minas Gerais. At the time, Ferreira was Biotrópicos' sole intern as it undertook its first project: camera trap research on the cerrado's large mammals.
"From there we started to develop other projects, and connect these projects and programs," he said. "Now, we still are a small NGO, but we have more people working in more places, in different ways." In the course of its growth and evolution, Biotrópicos took a lead role in forging a coalition of university-based conservationists in 2010 to conduct research in a "protected areas mosaic" of more than a dozen nature reserves, mostly government-owned parks.
"All these people have worked in the cerrado for a long time, but all independently. So we decided to get together and start this network to try to do things in a similar way, so we can compare data and see the big picture," he said. "We are building it up, and now we are starting to have more meetings and try to put the data together. So far we are working to solve communication problems and decide protocols. But data is being collected now, so we are going the right direction."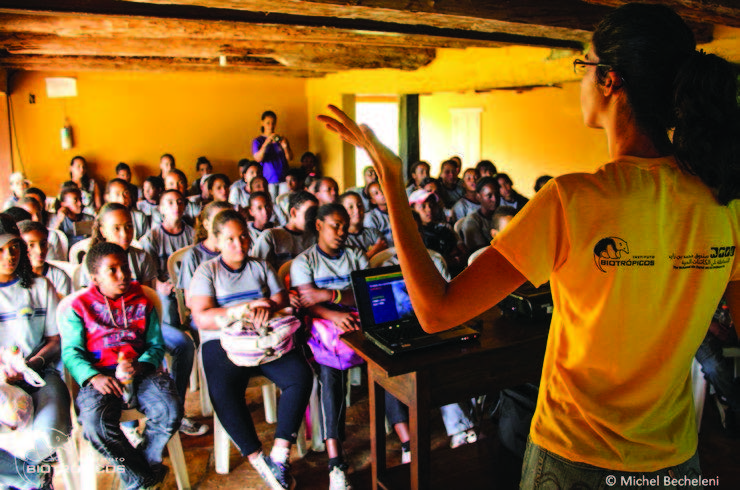 Along the way, they have scored a pair of noteworthy successes in unique species research. One is the discovery of a new species of frog, endemic to Pico do Itambe State Park. The crossodactylodes species is limited to mountaintops above 1,800 meters and spends its entire life cycle inside bromeliad flowers. The other came after Fereira's seven-year search for bush dogs in Minas Gerais. The 1.5 seconds of camera trap footage Biotrópicos captured in 2012 was the first bush dog sighting in Minas Gerais since a Danish paleontologist described the canid in 1842.
But it is in reaching out to schoolchildren that Biotrópicos researchers take a particularly personal pride. Since 2010, Biotrópicos has helped more than 3,000 schoolchildren overcome myths and stigma against amphibians that Fereira said are all too pervasive among residents of Minas Gerais. The program uses videos and songs to teach schoolchildren about the ecological services, characteristics, and behavior of amphibians, and turns that into a year-long art project. The children's drawings are then shown during an annual five-day public exhibition that draws more than 1,000 visitors.
From its modest beginnings at a single school, the program has spread to five cities at more than 30 schools. That embodies the broader success Biotrópicos has had in shifting the conversation about conservation in Minas Gerais.
"Most of the people here are not well-informed about biodiversity. Most don't know what a protected area is. Most think that nature or native animals can be a harm to them," Ferreira said. "These activities are something we've started slowly, it's not that big yet, but every time we do them, we see people start to broaden their consciousness."