NatureServe welcomes Miguel Fernandez, Ph.D. as new Director, Latin America and Caribbean Programs
---
FOR IMMEDIATE RELEASE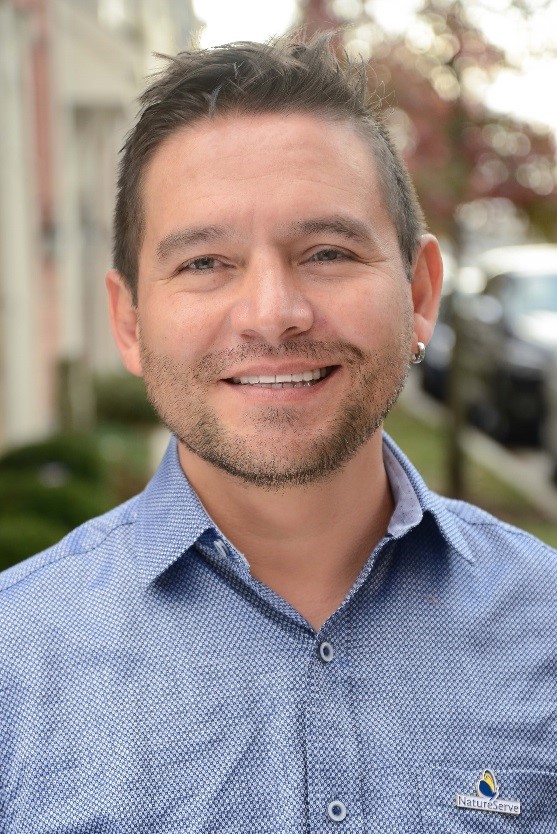 ARLINGTON, VA – NatureServe, a non-profit conservation organization, has appointed Miguel Fernandez, Ph.D. as its new Director, Latin America and the Caribbean. Miguel's connection with nature started when he was working in the Bolivian Amazon as an eco-tour guide. He enjoys spending his spare time traveling to remote places in Bolivia where he is an avid biodiversity photographer. When asked about his favorite species, he states, "Most definitely black caimans (Melanosuchus niger). Paddling through an Amazonian river at night in a canoe is something you need to experience to fall in love with nature. Dealing with the extreme heat, high humidity, and the bloodthirsty mosquitos while searching for the red glow of the black caiman eyes is a humbling experience."
Miguel earned his Master's degree from San Francisco State University in Geography and his Ph.D. in Environmental Engineering from the University of California, where he later led the implementation of a geospatial data management solution for the Redwoods and Climate Change Program. His background includes positions at the Group on Earth Observations Biodiversity Observation Network (GEO BON) in Germany, where he served as the lead developer of the Essential Biodiversity Variables, a framework concept, currently being applied in Europe, Asia, and Latin America, as a guiding principle for national monitoring initiatives. As a team leader at the United Nations Development Program (UNDP), Miguel pushed the formulation of a new set of environmental regulations forward for mining and petroleum activities in South America. In addition, he has also held positions in international commissions and scientific advisory panels, including the International Union for Conservation of Nature (IUCN), and the Intergovernmental science-policy Platform on Biodiversity and Ecosystem Services (IPBES).
In his current position at NatureServe, Miguel will help NatureServe ensure that the Network Programs in the Latin America and Caribbean regions are actively engaged in regional and global strategic alliances and fully participating in the NatureServe Network. His key activities will include identifying and cultivating clients, creating funding opportunities, and co-developing collaborative projects.
Lori Scott, Interim President & CEO at NatureServe states, "We are thrilled to welcome Miguel to the NatureServe family! He is a key asset in NatureServe's mission, and will help to deliver science that guides conservation in Latin America and the Caribbean."
ARLINGTON, VA – NatureServe, una organización sin fines de lucro dedicada a la conservación, ha nombrado al Dr. Miguel Fernández como el nuevo Director de los Programas de Latinoamérica y el Caribe. Su pasión por la biodiversidad se inició en la Amazonia Boliviana cuando trabajaba como guía de eco-turismo. Su tiempo libre lo dedica a viajar a lugares remotos donde disfruta fotografiando la naturaleza. Cuando le preguntamos cuál es su especie favorita él nos comenta: "Definitivamente el caimán negro (Melanosuchus niger). Remar de noche en canoa por un tributario del Amazonas, es algo que se tiene que experimentar para apreciar la magia de la naturaleza. Lidiar con temperatura y humedad extremas, además de los mosquitos, siempre sedientos de sangre, mientras buscas el reflejo rojizo de los ojos del caimán negro, es una experiencia inolvidable."
Miguel obtuvo su maestría en Geografía en la Universidad Estatal de California y su doctorado en Ingeniería Ambiental en la Universidad de California, donde después lideró la implementación de una solución geoespacial para el programa de Cambio Climático de los bosques de secuoyas. Su experiencia incluye posiciones en el Grupo de Observaciones de la Tierra, Red de Observaciones de Biodiversidad (GEO BON) en Alemania, donde lideró el desarrollo del concepto marco de las Variables Esenciales de Biodiversidad. Esta idea está actualmente siendo aplicada en Europa, Asia y Latinoamérica como un principio guía para el desarrollo de iniciativas nacionales de monitoreo. Como líder de equipo dentro del Programa de las Naciones Unidas para el Desarrollo (PNUD), Miguel impulsó la formulación de nuevas regulaciones ambientales para actividades mineras y petroleras en Sudamérica. También ha participado activamente en comisiones internaciones y paneles científicos incluyendo la Unión Internacional para la Conservación de la Naturaleza (IUCN) y la Plataforma Intergubernamental de Biodiversidad y Servicios Ecosistémicos (IPBES).
Desde esta nueva posición dentro de nuestra organización, Miguel apoyará a que los programas en Latinoamérica y el Caribe y sus miembros estén activamente involucrados en alianzas estratégicas regionales y globales. Sus principales actividades incluirán gestionar las necesidades de creación de capacidades en la sección de Latinoamérica y el Caribe, búsqueda de oportunidades de financiamiento y el co-desarrollo de proyectos colaborativos entre los antiguos y nuevos miembros de la red.
Lori Scott, Presidenta Interina & CEO de NatureServe afirma: "Estamos encantados de recibir a Miguel como parte de nuestra familia. Él es un recurso clave que nos permitirá cumplir la misión de NatureServe y que ayudará a aportar con ciencia que guíe la toma de decisiones en conservación en Latinoamérica y el Caribe.
You can connect with Miguel Fernandez, Ph.D., through e-mail or LinkedIn.
Media Contact:
Todd Parks, NatureServe
Office: 703-908-1850
Email: todd_parks@natureserve.org