How the American Southwest is Changing
---
It has been called America's most iconic landscape. Desert cacti, deep and winding canyon trails, red rock spires and surreal sandstone landscapes define the stunning southwestern U.S. The Mojave Desert and Great Basin in particular are characterized by expanses of sage brush, deserts, playas, and a series of long ranges interspersed with valleys harboring rare and endemic species.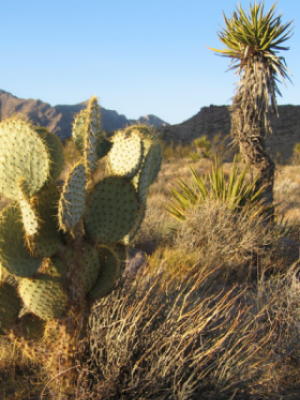 To the casual observer, the landscape seems stable. But dig deeper, and the data show that this iconic landscape is undergoing profound changes.
NatureServe recently mapped the expected changes within two large Southwest ecoregions that encompass parts of California, Nevada, Arizona, and Utah. Conducted for the U.S. Bureau of Land Management (BLM), these "rapid ecoregional assessments" analyzed the impacts of four stressors:
Climate change
Wildfires
Invasive species
Development, including urban sprawl and renewable energy development
For each stressor, we looked at what is currently happening on the ground, and predicted impacts through the year 2060.
We were able to identify and isolate specific challenges that biodiversity will face in these regions. For example, the greater sage grouse, a vulnerable species that occupies a vast range, will likely retreat under climate change to a small area concentrated in northern Nevada and in higher elevations and foothills. By 2025, renewable energy development will add another 152,000 acres to its current footprint which, absent careful planning, could reduce the quality of certain habitats and associated transmission lines may disrupt connectivity for wildlife movement. Fire-prone invasive grasses are likely to significantly increase wildfires and degrade the natural landscape, especially for sage grouse.
This assessment not only sheds light on the challenging future faced by the U.S. Southwest, but also provides critical insights to the BLM to inform their decisions on how to manage this region. The BLM is now incorporating our findings into their plans to better manage this changing landscape, reduce the impacts of development, and improve outcomes for biodiversity in the future.