Planning for Success: Incorporating Plants, Midwest Habitats, and Connectivity into State Wildlife Plans
---
Having a good plan is one of the key factors that determines success or failure. A solid, well-founded plan keeps activities in line with goals, ensures effective use of time and resources, and reduces risks and uncertainties.
"If you fail to plan, you plan to fail."
                               - Benjamin Franklin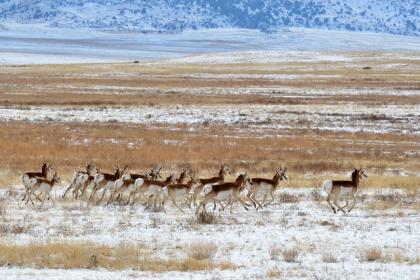 For all 50 United States and five U.S. territories, one of the most important plans they develop is the State Wildlife Action Plan (SWAP). These plans outline steps to conserve wildlife and habitats before they become too rare or costly to restore. With support from the Doris Duke Charitable Foundation, NatureServe and our network members have completed a four year project to enhance State Wildlife Action Plans in three critical areas:
Plant conservation - In the past, plants have frequently been left out of State Wildlife Action Plans. NatureServe worked with five states—Colorado, Michigan, Montana, New Jersey, and North Dakota—to develop detailed maps and analyses that incorporate the needs of plants in State Wildlife Action Plan revisions.
Midwest habitat maps - We developed consistent, seamless habitat maps across eight Midwestern states to improve regional assessments of biodiversity in places like the Great Lakes beaches and dunes of Indiana and Michigan.
Landscape connectivity - Understanding the movement of species across the landscape is important to the long-term survival of biodiversity in a fragmented landscape. It is also a relatively new concept, and so states have previously lacked a single resource to help them. To fill this gap, NatureServe published step-by-step online guidance via ConnectingLandscapes.org.
This vast body of work will help to focus scarce resources and arm practitioners with knowledge for more effective conservation.