A Day of Discovery
Uncovering Nature's Gems in Brumley Forest
---
How many species can 100 people find in one day at the Triangle Land Conservancy's Brumley Forest Nature Preserve? According to our event's iNaturalist project page, a lot.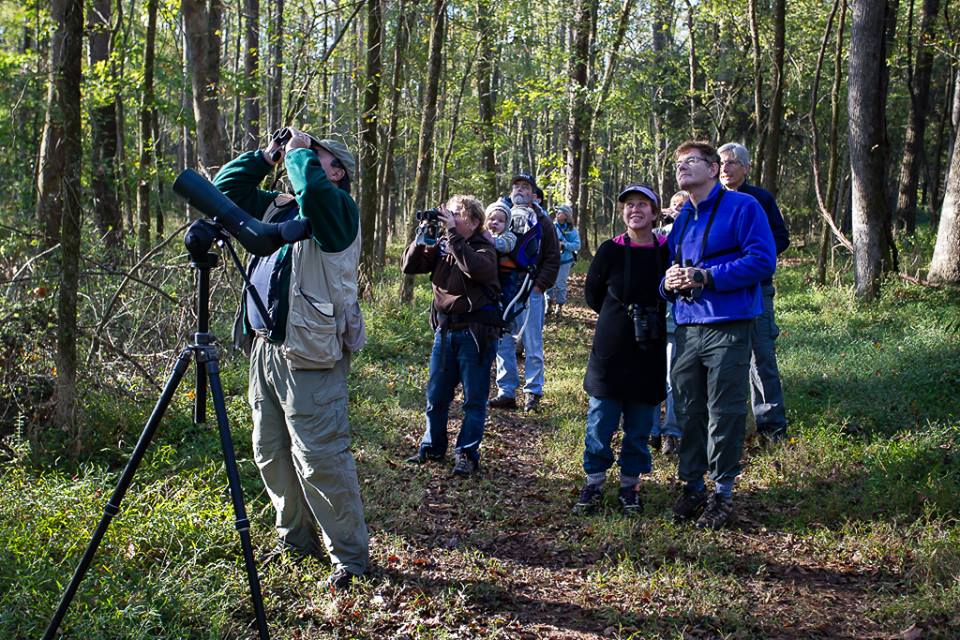 On October 17, scientists, naturalists, students, kids, parents, and community members spent the day making observations and discovered nearly 200 different species inhabiting just a portion of the 613-acre private preserve in North Carolina.
The Brumley BioBlitz—a one-day bonanza of exploration to pinpoint, photograph, and document as many plants and animals as possible at Brumley Forest Nature Preserve—was organized by NatureServe and Triangle Land Conservancy to harness the passion of the local community to inventory the plant and animal species hidden in this special place.
Beginning with a sunrise bird walk, over 400 observations of nearly 200 species were made throughout the day. There were plenty of games for kids, demonstrations by local experts and explorations of the pond, wetland area, and wooded trails.
For all participants including Mary Klein, NatureServe's former President and CEO, this year's Bioblitz was an exciting and educational event. 
"I loved the positive energy generated by all of the participants. It was fantastic to see both kids and adults getting so excited about going searching for salamanders and skinks, jumping spiders, ferns and fungi. And the species list we generated provides a great snapshot of the biodiversity of the Triangle area," Klein said.

The information collected through the BioBlitz will be used to help enhance Triangle Land Conservancy's impressive plans for the site. Brumley Forest is slated to open to the public in the fall of 2016 and will become an important location for recreation and appreciation of nature.
"Knowing what lives here helps us take care of the land so future generations can continue to uncover its unique natural gems," said Sandy Sweitzer, Executive Director at the Triangle Land Conservancy. "The information collected during the BioBlitz allows us to better understand Brumley Forest and its role in the region."

The data can also help inform scientists at the North Carolina Heritage Program—NatureServe's member program in the state—who are responsible for tracking and managing information on all rare plants and animals in North Carolina.
Many thanks to NatureServe's sponsors and partners for helping to make this year's Bioblitz such a success!
Stay connected - become a conservation champion by taking action today:
Check out photos from the day on NatureServe's and TLC's Facebook pages!