Land Stewards Adopt NatureServe Tool to Conserve the Hood River
---
People have found tranquility, recreation, and have built their lives around the Hood River for hundreds of years. From the glaciers atop Mount Hood to its junction with the Columbia River which makes up much of the border between Oregon and Washington state, the cold rushing water makes for incredible views and rich habitat. The land along its shores provide habitat for elk, deer, cougar, black bear, osprey, and eagles. The waters provide habitat for steelhead, salmon, and now, with the 2010 removal of the Powerdale Dam, Pacific lamprey.
Along with the dam removal, in 2013 a four-mile-long corridor of land along the Hood River was transferred from a hydro-power company to Columbia Land Trust and Hood River County. The current opportunity to restore habitat, improve recreational opportunities and protect prime agricultural lands from development could not be greater.
Jen Zarnoch, natural areas manager with Columbia Land Trust, is excited to be an early adopter of a new tool that will radically improve the land trust's ability to determine the health of the land they seek to steward. The tool was developed by NatureServe and NatureServe Network Programs. Columbia Land Trust and the Washington Natural Heritage Program (WNHP) are advancing the EIA method for application in upland ecosystems.
The tool, called Ecological Integrity Assessment (EIA), is a standardized methodology for evaluating the health of a landscape's ecology compared to its historic natural condition. Key ecological attributes help ecologists and land managers determine where a site lies on the continuum from functional and thriving to degraded and ailing.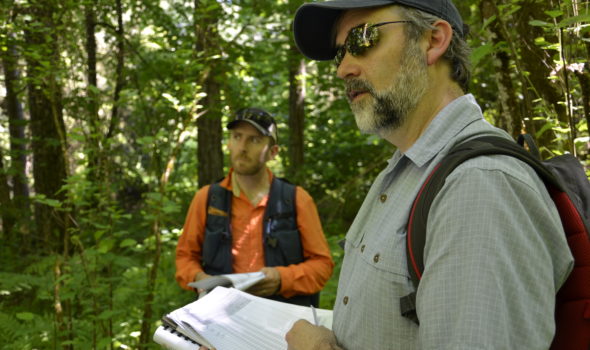 Senior vegetation ecologist Joe Rocchio and vegetation ecologist Tynan Ramm-Granberg, both with WNHP, went out into the field to test the new tool with Jen Zarnoch.
"No matter the type or scale of the ecosystem," Rocchio explains, "we're primarily asking the same questions: which plant species are present, what is the structure of the ecosystem, what are the primary ecosystem functions of the area, and how well are they performing? Plant species are the primary focus of EIA measurements because they are closely tied to all other species and ecological processes, and because they are relatively easy and cost-effective to measure."
Zarnoch sees the EIA serving as a structured, science-based approach to land management for Columbia Land Trust. For the first time, the land trust's natural area managers will use a single methodology to evaluate wetlands, upland forests, prairies, oak woodlands, riversides, sagebrush-steppe, and other habitat types represented across their 13,700-square-mile service area. "This is a tool," says Zarnoch, "that can help us look across all our lands in Washington and Oregon and determine how we're doing."
Additionally, the EIA establishes shared protocols, allowing different land managers to formalize what traditionally have been more subjective views. The tool still requires professional judgment, including traditional ecological knowledge, but land managers can at least point to a specific attribute where opinions differ and learn from there.
After trials at sites like the one at Powerdale, Washington DNR and the Land Trust will continue to refine and calibrate the EIA. Columbia Land Trust plans to conduct EIAs on each of its 95 stewardship units over the next couple of years to establish baseline conditions. Future EIAs will then allow stewardship staff to determine whether a site's habitat condition is improving, stable, at risk, or declining. These determinations will feed into the Land Trust's adaptive management process, tell us how our sites are doing, and help us prioritize our work accordingly.
If this early adoption of the EIA goes as planned, Columbia Land Trust is hopeful that the tool catches on with other land trusts. By creating a common language around ecological assessments, land trusts could provide a more complete picture of ecosystem health across the entire Northwest and beyond.