NatureServe Core Methodology Drives Conservation
---
It was an iconic warm, bluebird sky day in Colorado, and 35 NatureServe Network program staff from across the U.S. and Canada hiked into Coyote Ridge Natural Area for some data collection in preparation for mapping and ranking exercises the following day.  Trainees were soon closely observing an imperiled plant in full bloom, Bell's Twinpod (Physaria bellii, G2G3, S2S3), the rugged Mountain Mahogany Skunkbush / Big Bluestem Shrubland ecosystem (Cercocarpus montanus – Rhus trilobata/Andropogon gerardii Shrubland, G2G3, S2), the ever dynamic black-tailed prairie dogs (Cynomys ludovicianus – G4,S3), and the bright and cheerful western meadowlark (Sturnella neglecta, G5), among other creatures and plants encountered that day. Adding a little excitement to the experience was a close encounter with a baby Prairie Rattlesnake (Crotalus viridis, G5)! The day ended with a fun gathering at a local brewpub. Welcome to Core Methodology Training 2018!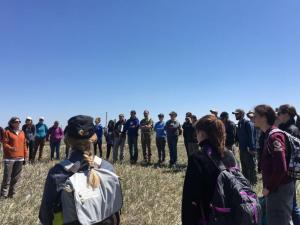 On April 24, 2018, NatureServe Network staff gathered at Colorado State University's Lory Center for the first day of a four-day training on the "core methods" utilized by the NatureServe Network. These are the methods that bind our network together and make us a unique and powerful resource to inform science-based conservation decisions and actions.
There were 35 trainees representing 17 Network Programs including: Atlantic-Canada (5), California (1), Colorado (4), Louisiana (2), Massachusetts (1), Maryland (2), Missouri (1), New Mexico (1), New York (4), North Carolina (1), Pennsylvania (4), South Carolina (1), South Dakota (1), Texas (1), Virginia (1), Washington (1), West Virginia (1), and NatureServe (3). The team of trainers consisted of eleven staff from NatureServe (NS) and the Colorado Natural Heritage Program (CNHP). The master of ceremony was Shara Howie (NS Program Manager). The lead trainers were Don Faber-Langendoen (NS Senior Ecologist, NE North America) and Whitney Weber (NS DBA & Product Support Specialist) from NatureServe. Other presentations and discussions were led by Lori Scott (NS Interim President, CEO & CIO), Pat Comer (NS Chief Ecologist), Dave Anderson (CNHP Director & Chief Scientist), Anne Frances (NS Lead Botanist), Jill Handwerk (CNHP Botany Team Lead), Jeremy Siemers (CNHP Zoology Team Lead), and Bruce Young (NS Director of Species Science).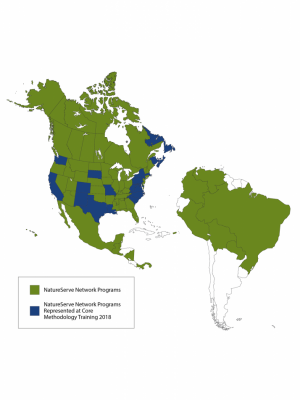 The training started out with an overview of the NatureServe Network's interesting and colorful history, and a visionary perspective on where we are now versus where we are going. Then trainees were introduced to our methodology – what it is and why it matters. Day two and three gave the trainees a deeper understanding of our methodology with hands-on exercises in element ranking, mapping, and element occurrence ranking, in addition to the field experience at Coyote Ridge.  We delved deeper into Species Distribution Modeling (SDM), and trainees discussed local SDM efforts and issues around use of this type of information. Day four provided an opportunity for more intimate, in-depth discussions about ecology and species science, and advanced training in Biotics.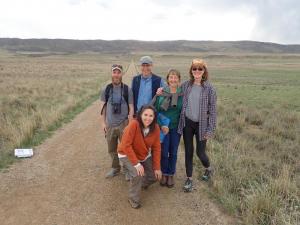 We had a stellar and diverse set of trainees. Everyone came away with a better understanding of our core methods and how we are all connected to a larger conservation effort that is unique in the world, and managed to have a little fun along the way. There was plenty of laughter, and spirited discussion. We look forward to Core Methodology Training 2019 being held in Arlington, Virginia the week of April 23th. Mark your calendars! Details to follow over the next few months.