A Plan to Save Our Pollinators
NatureServe data at work
---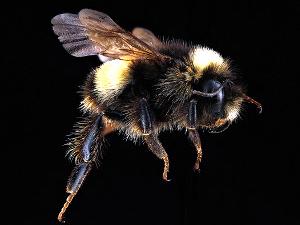 The yellow-banded bumble bee (Bombus terricola) has been going through some tough times lately, but things may be starting to look up. The species has experienced a drastic population decline since the year 2000, now qualifying for a global NatureServe status of G3, or imperiled. In New York state, where the species was once common, it has seen a population devastating decrease of 99% across its range! At this rate of decline, the yellow-banded bumble bee could disappear from New York forever if no action is taken. As a result of collaborative efforts by the NatureServe Network, Bombus terricola has been listed as a High Priority Species of Greatest Conservation Need in New York's State Wildlife Action Plan.
"Because of the work by NatureServe and the New York Natural Heritage Program, bumble bees will be better conserved in our state."
Joe Racette, New York State Wildlife Action Plan Coordinator
Saving pollinator species like the yellow-banded bumble bee from extinction is as much an economic issue as it is one of conserving our natural heritage. According to the Food and Agriculture Organization, pollinators such as bees, bats, and birds support 35% of the world's crop production—that's over one-third of the world's plant-based foods! The yellow-banded bumble bee is an important pollinator of many of kinds of native and crop plants, including cranberries, blueberries, raspberries, and tomatoes. The economic value of the pollination services of insects, especially bees, is estimated to be $3 billion per year in the United States alone! For a group of species that are so instrumental to our economy, it should be alarming to hear about the looming pollinator crisis.
A Catalyst for Change
NatureServe's work has been a catalyst for on-the-ground conservation efforts for pollinators in the northeastern U.S. One example is a recent collaboration by NatureServe and its network members in Maine, New Hampshire, Vermont, Massachusetts, and New York, with support from the Sarah K. de Coizart Perpetual Charitable Trust, which produced tangible results for the 20 bumble bee species that occur in the northeastern U.S..
Three major products came out of this project:
State-level species lists and conservation status assessments of the bumble bees occurring in Maine, New Hampshire, Vermont, Massachusetts, and New York
A workshop to train state biologists in the identification and monitoring of bumble bees
Together, these three activities provide the science that allows policy-makers to create conservation programs with the goal of not only stopping the decline of these species, but also reversing it. For example, New York would not have had the data necessary to justify listing the yellow-banded bumble bee on their State Wildlife Action Plan without NatureServe's supporting data showing that the species was in sharp decline.
This project focused on bumble bee, dragonfly, and damselfly species. Dragonflies and damselflies, while not pollinators, are important aquatic insects, as they are superb indicators of the health of a stream or river. They are also a critical link in natural food chains in streams and rivers, as they are a large proportion of what many fish, especially trout, rely on as their main food source.
Because of the hard work of the NatureServe Network, the yellow-banded bumble bee's long-term chances for survival have gotten a lot brighter. New York will now take specific, on-the-ground actions to conserve the species, from educating landscapers on pollinator-friendly practices, to working with agricultural producers to set aside habitat for this and five other at-risk bumble bee species.
NatureServe and the NatureServe Network perform an invaluable service by providing the data and the expertise to empower conservation efforts in the Western Hemisphere, but we can't do it without your continued support!