New authority and pondberry surveys in Louisiana
---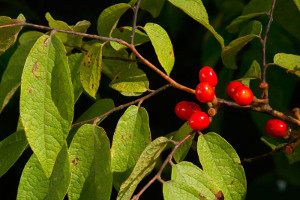 A major statutory change regarding threatened and endangered species in Louisiana occurred in 2017.  In August 2017, the Louisiana House Bill 608 was passed and gave the Louisiana Department of Wildlife and Fisheries (LDWF) authority to manage, regulate, and conserve natural flora, in addition to fauna, within the state.  Within LDWF is the Louisiana Natural Heritage Program (LNHP), a member of the NatureServe Network, which is responsible for the conservation of Louisiana's rare, threatened, and endangered species, nongame birds, and habitats.  In January 2018, LDWF received its first ever federal funding for the conservation of native flora in the state.  Beginning in August 2018, LDWF will complete surveys for the federally endangered pondberry (Lindera melissifolia) in the De Loutre Basin of northeast Louisiana.
Pondberry has not been recorded in Louisiana in over 180 years. A historical specimen collected in the 1830s documents pondberry in the Ouachita River floodplain in northeast Louisiana.  A small extant colony of pondberry in adjacent Ashley County, Arkansas adds credence to the record.  Today, pondberry may potentially occur in the Mississippi River floodplain forests of northeast Louisiana. LDWF has conducted field surveys for Pondberry on Upper Ouchita National Wildlife Refuge and some private lands in this region.  However, a substantial block of private lands centered on De Loutre Basin, which is connected to the Ouachita River in Union Parish, has not been surveyed and will be the target of LDWF's upcoming efforts. Old growth forests, which are exceedingly rare, are the best places to look for the species.  Forests that have only been selectively cut have the possibility of supporting Pondberry.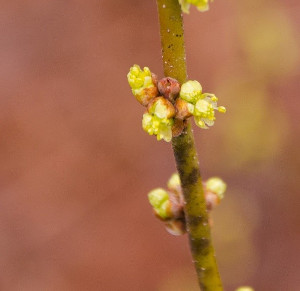 The federally endangered pondberry (Lindera melissifolia) is a thicket-forming shrub with green stems and alternate drooping leaves. Small clusters of yellow flowers appear before leaves erupt in March and are arranged alternately on the stems.  The leaves have a yellow color that makes the plant easy to spot.   The species thrives in low areas within bottomland hardwood forests in the western part of Louisiana, and on the margins of limestone sinks and wet depressions in pine forests in the eastern part. It is likely that pondberry has always been a rare species, but its distribution and abundance have been affected by habitat destruction and alteration, such as timber cutting, clearing of land, and local drainage or flooding of wetlands.
 LDWF's new authority means that more robust knowledge of all flora within the state is possible.  Thus, the NatureServe Network mission is strengthened – to collect, manage, analyze, and communicate reliable information about rare and endangered plants, animals, and ecosystems from the Arctic to the Andes. These types of advancements are possible thanks to your support of biodiversity science.