A Message from NatureServe's Leadership
---
Dear Friends, Supporters, and Network Members,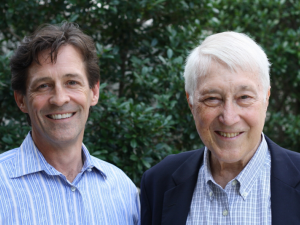 We are writing this letter about six months into Sean's tenure as President and CEO and Jim's tenure as Board Chair. As we reflect on where NatureServe was at the start of 2018 compared to where we are now, we are proud of this crucial organization's successes in the past year and excited about its promising future.
As you know, NatureServe has gone through several changes in the recent past. If you look at the financial information in our past and current annual reports, you will see we have hard work ahead to get back to full strength. There is no point in trying to hide our challenges, and we believe the more you know about our work, the more you will be inspired to help us through our rebuilding stage. As you will see in this annual report, we continue to make meaningful progress on our mission of protecting threatened and endangered species and their habitats.
One of many gratifying accomplishments in 2018 was securing significant financial support to rebuild our flagship database and public education tool, NatureServe Explorer. This in-depth, online encyclopedia is a critical resource for scientists, managers, and practitioners working to protect biodiversity, and the newest version will provide greatly expanded access to the wealth of conservation data NatureServe has to offer. We look forward to unveiling a completely redesigned Explorer later this year.
We also launched an ambitious project with support from Microsoft, Esri, and The Nature Conservancy to create habitat suitability models for approximately 2,500 threatened and endangered species in the United States. This effort, carried out by dozens of scientists across scientific approach, will provide the most precise and comprehensive information to date on where at-risk species are concentrated. The national map of biodiversity hot spots we create with this data will be a significant tool to guide critical conservation efforts. NatureServe remains uniquely committed to protecting biodiversity for the sake of conservation itself. We also recognize and value the economic, public health, and ecosystem services the natural world provides us. We are guided by our understanding that every species provides an irreplaceable contribution to human and planetary health, as well as an intangible aesthetic contribution to life on Earth. Our work to protect biodiversity supports a prosperous future for our children and all future generations.
Inside this report you will find an illustrated map of threatened and endangered vertebrate species in the United States and Canada, created from the invaluable information NatureServe and our network programs have collected and analyzed. After you read the updates in this report, we encourage you to put this poster on your wall and enjoy its beauty while gaining insights into the serious biodiversity crises we face. We will share more information online about each of the illustrated species throughout 2019.
We are eager to introduce you to a revitalized NatureServe, and we cannot wait to send you updates about our progress in 2019 and beyond.
Sean O'Brien, Ph.D.
President & CEO
James Brumm
Chair, Board of Directors