Gland, Switzerland (IUCN) – The latest update of The IUCN Red List of Threatened Species™ shows worrying declines for conifers – the world's oldest and largest organisms – freshwater shrimps, cone snails, and the Yangtze finless porpoise. The Santa Cruz pupfish, a lizard known as the Cape Verde giant skink, and a species of freshwater shrimp have been declared extinct. 
With this update, 4,807 species have been added to The IUCN Red List bringing the total of assessed species to 70,294, of which 20,934 are threatened with extinction. 
"Thanks to the IUCN Red List, we now have more information on the state of the world's biodiversity than ever before," says Jane Smart, Global Director, IUCN Biodiversity Conservation Group. "But the overall picture is alarming. We must use this knowledge to its fullest – making our conservation efforts well targeted and efficient - if we are serious about stopping the extinction crisis that continues to threaten all life on Earth."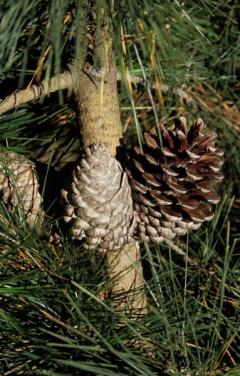 The update includes the first global reassessment of conifers. According to the results, 34% of the world's cedars, cypresses, firs and other cone-bearing plants are now threatened with extinction – an increase by 4% since the last complete assessment in 1998. 
The conservation status of 33 conifer species has declined, including California's Monterey pine (Pinus radiata) - the world's most widely planted pine valued for its rapid growth and pulp qualities. The tree has moved from Least Concern – a category used for species at relatively low extinction risk - to Endangered, with main threats including feral goats and attacks by an invasive pathogen. Another conifer species previously classified as Least Concern, the Atlas cedar (Cedrus atlantica) – native to the Atlas Mountains of Algeria and Morocco – is now Endangered due to over-exploitation. Its reduced population is threatened by various pests. 
On the other hand, conservation action has led to improved status for the Port Orford cedar (Chamaecyparis lawsoniana), also known as Lawson's cypress. Once a heavily-traded species, the tree is now listed as Near Threatened thanks to improved management practices in California and Oregon, including planting disease resistant stock. If conservation actions continue, this conifer may be listed as Least Concern within 10 years. 
The update also provides results of the first-ever global assessment of freshwater shrimps, of which 28% are threatened with extinction. Ten percent are used for human consumption, including the giant river prawn (Macrobrachium rosenbergii), and they are an important part of the freshwater food web. Pollution, modification of habitat and the aquarium trade are some of the primary threats they face. 
"Thanks to the indefatigable efforts of colleagues in Latin America, there are hopeful signs that the populations of some frog species that were decimated by the one-two punch of climate change and disease are stabilizing and, in some cases, showing signs of a slow recovery," says Mary Klein, president and CEO of NatureServe. "However, the freshwater shrimp data further confirm what we know from analyses of other animal groups: freshwater species are among the most threatened with extinction due to the dams, channels, pollution, and introduced exotic species in those ecosystems."