Citizen Science in the Lone Star State
---
In partnership with Texas Parks and Wildlife and iNaturalist, NatureServe has built a smartphone app that will help volunteers gather scientific data on species of concern in Texas, and share these data for wider use in protecting biodiversity.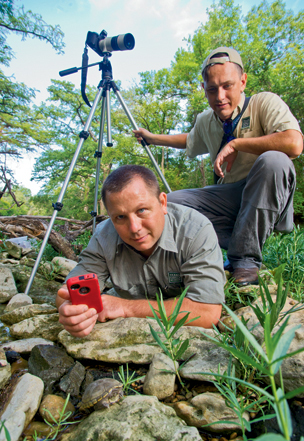 The iNaturalist app for Android or iPhone allows Texas Nature Trackers (volunteers of all ages, working in partnership with the Texas Parks and Wildlife Department and the Texas Master Naturalist Program) to record observations in the field. These observations will then feed into the worldwide iNaturalist database—an online community of naturalists, citizen scientists, and biologists built on the concept of mapping and sharing observations of biodiversity across the globe. With the smartphone app, the observations will also conform to the natural heritage program's data standards, allowing NatureServe's member program in Texas, the Texas Natural Diversity Database, to curate these data for use in our shared mission to better inform conservation decisions. Thanks to this smartphone app and some modifications made by NatureServe, it is now easy for Texas data managers to set up new citizen science surveys and import the results to the greater NatureServe observation system.
Citizen Science is an area of special emphasis for NatureServe. Our network possesses a unique combination of data, expertise, computer applications, and a network of partnerships that complement and support the passion and enthusiasm of citizen scientists. We believe that collaborating with citizen scientists is an important and cost-effective way to document patterns of biodiversity in a rapidly changing world.
Look for the Texas Nature Trackers app coming soon on the App store and Google play!