Current Version: Vista 3.6.1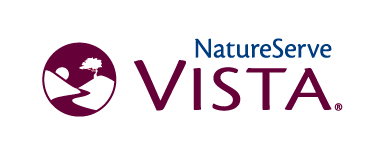 License Fees
NatureServe Vista is a powerful conservation software developed and supported by NatureServe, a conservation non-profit organization. Developing and maintaining software is a costly endeavor and we thank the many agencies and organizations that have contributed to its development and endowment over the years. The needs and desires of our users demand an aggressive program for engineering updates and enhancements and we are initiating a tiered fee system such that modest annual contributions by users can help maintain and improve the software for all.
Fee System
Non-Commercial
For the near term, Vista will remain free for academic, non-profit, and government agencies using Vista for their own organizational purposes.
Fill out the form below and we will send you an email with a link to download Vista.
Commerical
Commercial use of Vista by any organization will require payment of an annual license fee and a required training and support program for the first year. Commercial use is defined as any use of Vista by the user for another party conducted for a fee regardless of type of organization. If you include NatureServe on your project team we will negotiate a reduction or waiver of the annual license fee.
Price: $2,500 plus training and support fees for first year. Please see the "starter package" and price appropriate for your organization type on the Training and Support page.
Please contact us to obtain a commercial license application and payment form.
Vista Download Form
If you have a NatureServe website account, please make sure you log in first. If you need to create a website account, click here.
Please complete the form below making sure to include a valid email address. A valid email address ensures you will receive the link to download Vista and allows us to provide you with important software updates and announcements for Vista.
 
Please make sure you understand the usage agreement and meet the operating requirements prior to installation.
 
The Vista software and license you are downloading is intended for a single user, copying or distributing the files received (other than for backup purposes) is prohibited by the license agreement. If you need additional copies for other users, simply return to this registration site and complete another form for each user who wishes to download a copy. Thank you for your cooperation.