NatureServe Vista
Decision Support for Better Planning
---
Overview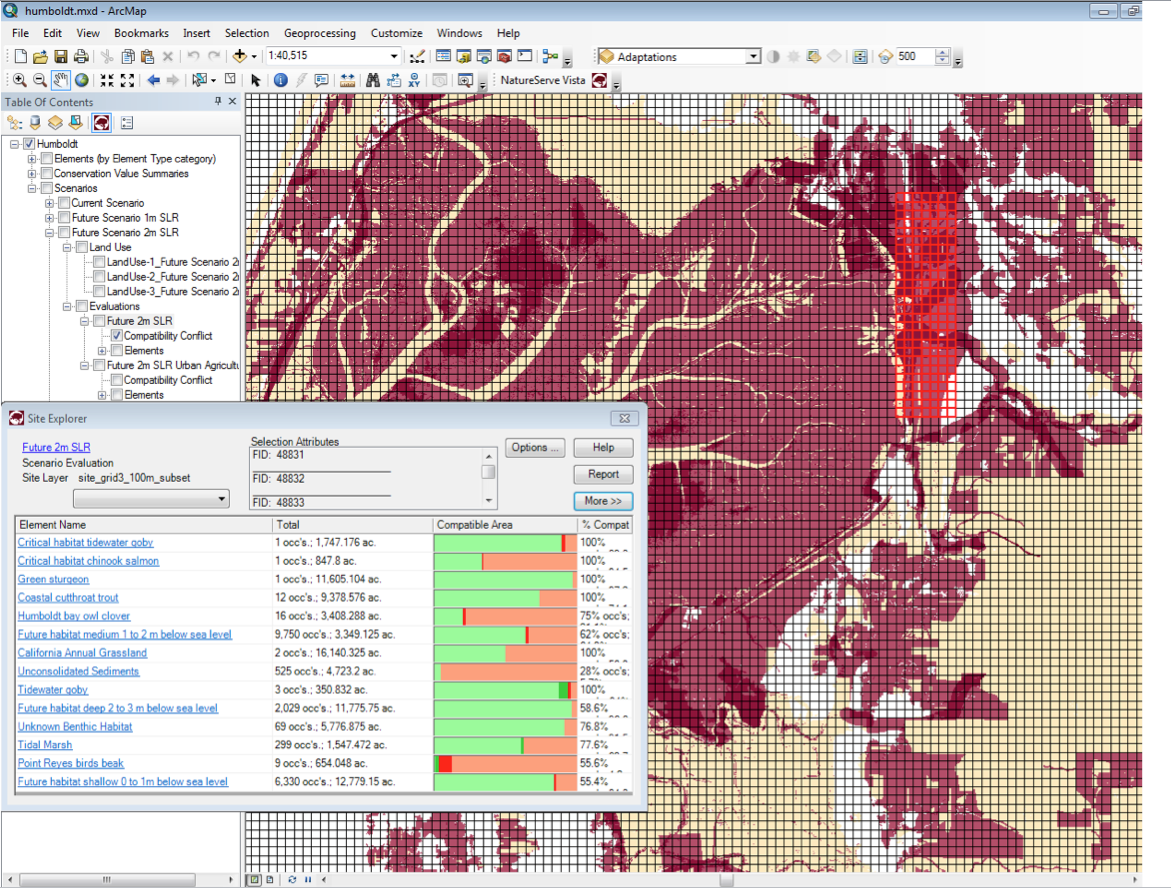 NatureServe Vista® is a free, ArcGIS extension that automates advanced spatial analyses for planners and managers. It is a highly capable decision-support system that helps users integrate conservation with many types of planning such as land use and natural resource management, infrastructure and transportation, energy development, and climate change adaptation. Users can characterize their features of interest, integrate expert knowledge, create and evaluate different spatial scenarios to determine where and how their values are supported or threatened, and develop site mitigations or complete new alternatives to best achieve planning objectives. Vista also supports ongoing plan implementation and adaptive management
Value
Integrating conservation with planning in other sectors such as land use and infrastructure requires a robust science and data-driven approach but must be accessible to planners and resource managers. NatureServe Vista provides the decision support framework and broad functionality to fill this need unlike any other tool. As an extension to ArcGIS, Vista works well with many other planning tools to provide a robust toolkit that can address many assessment and planning problems from the simplest to the most complex. Vista flexibly integrates best-available data, science, expert knowledge, and stakeholder values to assist the creation of defensible and well-documented solutions.
Related Projects
Features & Benefits
Uses
Characterize the spatial patterns of resources or other features of interest and integrate values and expert knowledge about goals and viability requirements
Overlay data and investigate patterns and concepts such as richness and diversity, rarity, viability, and data confidence
Characterize the current landscape patterns by importing and integrating data for land use, development, conservation, and any mapped stressor such as fire or invasive species. Define future scenarios including plans and proposals, modeled trends such as urbanization and agriculture conversion, and forecasts such as climate change effects.
Evaluate scenarios through cumulative effects assessment to understand where features (conservation elements) will be sustained or in conflict with proposed uses or infrastructure. Generate a large variety of maps and quantitative reports to inform impact assessments, mitigation, and planning.
Represent multiple objectives by integrating other desired features for development, land use, resource use and recreation, and cultural values such as historic sites and scenic views.
Investigate conflicts and create site-level mitigation plans or entirely new plan alternatives.
Interoperate with the Marxan optimization software to generate efficient conservation priority maps and use Vista to design implementable plans.
Conduct ongoing monitoring, updates, and evaluations to generate plan updates and reports.
Technical Features
Works with several other useful software tools (such as Marxan, InVEST, Community Viz, Maxent, and N-SPECT) to incorporate land use, ecosystem services, and ecological and geophysical modeling into planning.
Extensive documentation and reporting features. Vista generates FGDC-compliant metadata for its outputs, provides users with extensive ability to comment or document data inputs and analytical settings, and generates numerous customizable reports.
Compatible with the latest ArcGIS and Marxan releases. Additional software requirements: GIS: ESRI ArcGIS with Spatial Analyst; Other: OS requirements: Microsoft Windows XP or newer, Access, and .Net 4; 8GB of RAM recommended.
Suitable for GIS experts as well as planners and managers with basic GIS experience with a minimum of training and support.
NatureServe offers technical support, modular and customizable training online or onsite, and consulting.
Data and information requirements are flexible but include spatial distribution for conservation elements (any resource of conservation interest—biodiversity, cultural, etc.) and scenario features and knowledge of compatibility between elements and scenario features.
Key outputs include a rich set of maps (ArcGIS grids), reports, and tabular outputs that can be exported to HTML and MS Excel formats.
For more information, contact: vista_support@natureserve.org.