NatureServe Vista 3.3 Released
Free decision-support software now supports state- and ecoregional-sized projects
---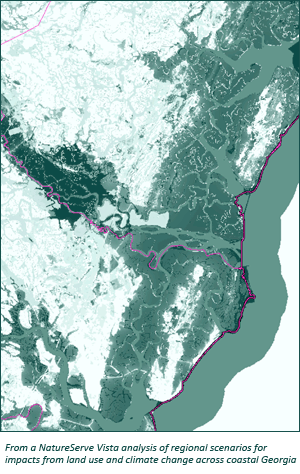 NatureServe announces the release of NatureServe Vista™ 3.3, which adds several new features and improvements.  
Ability to set goals > 100% to support restoration or species reintroduction objectives

Expanded options for selecting site units in Site Explorer such as drawing areas or corridors

Treatment of layers with Z values made more user friendly

Cell size check against snap raster to prevent conflicts in analyses

Edit Multiple Elements function now allows update of notes and Spatial tab

Stretched symbologies now range from 0 instead of lowest value, making them easier to read and compare

Site Explorer Policy Override now available for all evaluations so you can specify implementation mechanisms in your plans even if you did not evaluate policy reliability in your scenarios

Change in Condition Model now prompts for a Scenario Evaluation refresh where applicable

Notification to users of new commercial license requirements to assist compliance with use policies

Element evaluation progress bar better handles long element names
Vista is a powerful, flexible tool that integrates conservation values within many planning and assessment activities such as land use, transportation, energy, natural resources, and ecosystem-based management in terrestrial, freshwater, and marine environments.
NatureServe Vista 3.3 is also fully compatible with Marxan 2.1.1, using a step-by-step wizard to "generate solutions" and create input files needed for Marxan. Users can also import Marxan results through Vista's "capture results" function. 
NatureServe offers complete support services, including technical support, live and online help desks, training programs, and other conservation-planning and ecosystem-management consulting services.
NatureServe Vista 3.3 is free to download for non-commercial use at www.natureserve.org/conservation-tools/natureserve-vista, where registrants can access additional resources, including FAQs, detailed user guides, and details on other companion tools. Registered users of Vista receive notifications on new updates, typically 2-3 times per year. 
Commercial users, please refer to the license agreement after downloading Vista to ensure compliance with its terms. Commercial use of NatureServe Vista is defined as any use of the software for a 3rd party that is compensated monetarily, regardless of the nature of the organization using the software (including non-profit, government, or academic institutions providing services to others using NatureServe Vista for any monetary compensation).