NatureServe Canada Network report on Canada's endemic species
OTTAWA, ON (June 4, 2020) – A new report from the Nature Conservancy of Canada and NatureServe Canada offers the first comprehensive survey of Canada's endemic species (species found only in Canada). Unfortunately, the analysis shows that many of these uniquely Canadian species could be vulnerable to extinction.
Ours to save: The distribution, status and conservation needs of Canada's national endemic species was released today as part of Canadian Environment Week. It identifies 308 plant and animal species, subspecies and varieties that are endemic to Canada. Many are already at risk nationally and of global conservation concern. Identifying these species and the places where they live is an essential effort in protecting them from extinction. Mammals listed include eastern wolf, which lives in Algonquin Park, and the high Arctic's Peary caribou. Birds include a unique subspecies of northern saw-whet owl that lives in British Columbia and Harris's sparrow, the only songbird that breeds exclusively in Canada. Invertebrates, such as the tiny Maritime ringlet butterfly, make up almost half of the species listed in the report. A variety of flowering plants are also included, such as Gulf of St. Lawrence aster and Lake Louise arnica.
The highest numbers of plants and animals that are unique to Canada are found in British Columbia, Quebec, Alberta and Yukon. The report also identifies 27 key concentrations of endemic species that occur in every province and territory, including within the Avalon Peninsula (NL), north shore of Prince Edward Island, St. Lawrence River Freshwater Estuary, Waterton, Vancouver Island and the Mackenzie Delta. Most of these species need more conservation efforts.
The results of this report will be used by governments, Nature Conservancy of Canada and other groups, individuals and landowners to prioritize conservation actions and to inspire public support for species and habitat protection in Canada.
"No other nation can protect this group of all-Canadian species. Their conservation is completely up to Canadians." said Dan Kraus, senior conservation biologist with the Nature Conservancy of Canada and lead author of the report. "Protecting these species is Canada's priority in the fight against global biodiversity loss. The consequence of our failure to conserve them is their extinction."
"Many of Canada's national endemic species have restricted ranges, which makes them particularly vulnerable to habitat loss, climate change and invasive species." said Patrick Henry, NatureServe Canada's Executive Director. "This report provides decision makers with critical information in understanding where conservation investments could be directed in order to safeguard these uniquely Canadian species."
Learn More
The Nature Conservancy of Canada (NCC) is the nation's leading not-for-profit, private land conservation organization, working to protect our most important natural areas and the species they sustain. Since 1962, NCC and its partners have helped to protect 14 million hectares (35 million acres), coast to coast to coast. To learn more, visit www.natureconservancy.ca
About NatureServe CanadaNatureServe Canada functions as a network of provincial and territorial Conservation Data Centres (CDCs) to develop, manage, and distribute authoritative information critical to the conservation of Canada's biodiversity. Data held by NatureServe Canada are widely used by federal and provincial agencies, private industry, researchers and conservation organizations to improve the management, use and conservation of biological resources in Canada. NatureServe Canada also represents Canadian CDCs within the broader international network of similar centres throughout the western hemisphere known as NatureServe. By operating as a network, NatureServe, NatureServe Canada and the CDCs are able to provide consistent and high-quality ecological information and services at a geographic scale beyond the jurisdiction of individual members. Visit the NatureServe Canada website at www.natureserve.ca to learn more.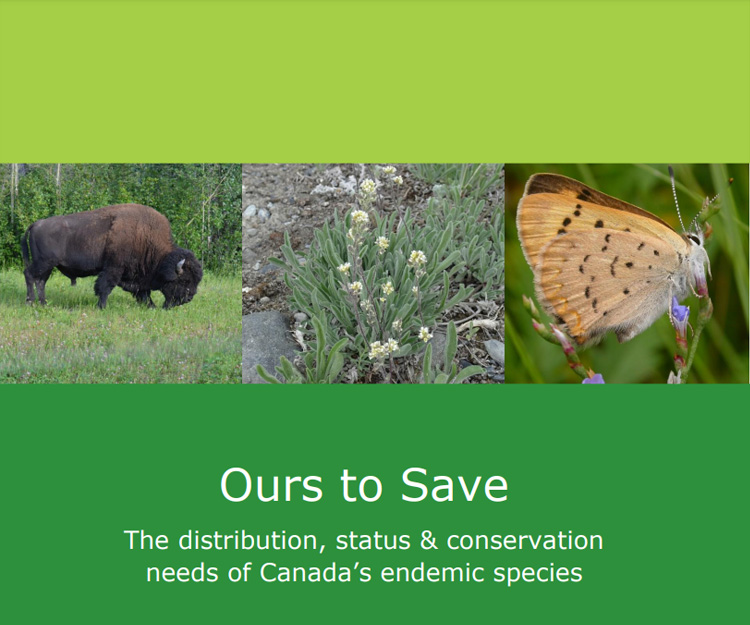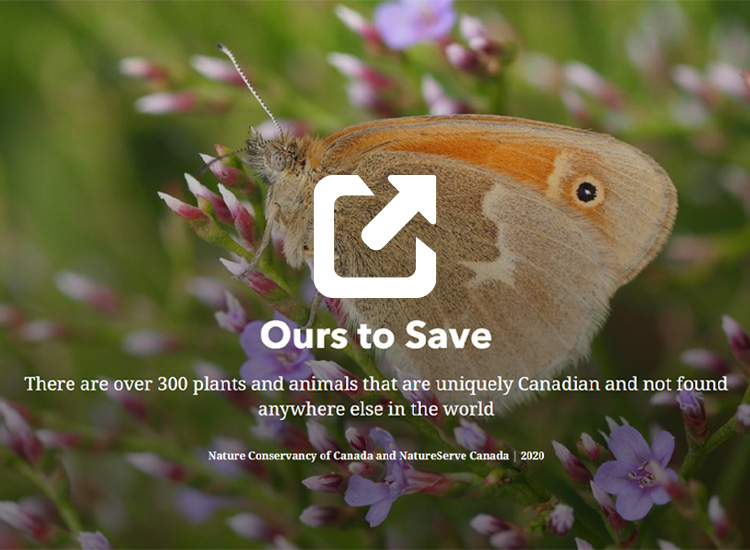 Click here to see the StoryMap
Media Contacts
Andrew Holland and Sarah Hoida
National Media Relations
Nature Conservancy of Canada
andrew.holland@natureconservancy.ca
sarah.hoida@natureconservancy.ca
C: 506-260-0469 (Andrew)
C:514-991-8599 (Sarah)
Patrick Henry
Executive Director
NatureServe Canada
613-986-1535
phenry@natureserve.ca
Citation
Enns, Amie, Dan Kraus and Andrea Hebb. 2020. Ours to save: the distribution, status and conservation needs of Canada's endemic species. NatureServe Canada and Nature Conservancy of Canada.