NatureServe Canada's Ecosystem-based automated range maps (EBAR) initiative will develop trusted and publically accessible range maps for priority species.  The objectives of the project are to develop national range maps that:
1) incorporate the best available species occurrence information
2) can be reviewed and refined by species experts in an ongoing and efficient manner
3) provide access to reference information of the underlying occurrence data
4) are publically available at no charge
5) are provided in an electronic format that permits efficient customization and integration by biodiversity experts, organizations and decision-makers
EBAR maps combine biodiversity data with expert knowledge to populate ecoshapes with species presence information.  Each ecoshape is associated with a set of references for the species information providing transparency regarding the underlying data.
Figure 1.   NatureServe Canada's "Canada terrestrial ecoshapes mosaic" for EBAR mapping.  Each ecoshape of an EBAR map contains accessible reference information documenting the decision on whether the species is known to be present, or not present, in a given ecoshape.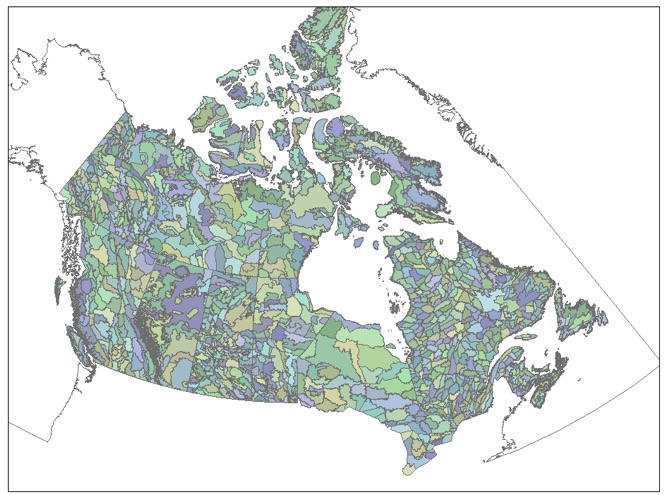 NatureServe Canada EBAR maps will support priority programs such as environmental impact assessments, status assessments by the Committee on the Status of Endangered Wildlife in Canada (COSEWIC), Species At Risk Act recovery action plans, the identification of Key Biodiversity Areas (KBAs) and provincial and territorial Species at Risk programs and legislation.  
NatureServe Canada EBAR Range Mapping Workflow
We have provided summary information below. Please visit this page in coming weeks for a more detailed description of EBAR processes and products and how you can help support EBAR mapping of priority species.
Species Data "Mining"
Accurate range maps require the best available species data. EBAR maps will incorporate species occurrence information from Conservation Data Centres, provincial, territorial and federal governments, citizen science platforms and digital biodiversity data resources (e.g., GBIF, iNaturalist), academia, non-governmental organizations, industry, species experts and Traditional Ecological Knowledge (TEK).
"Automated" Range Map Generation
The next step in EBAR project workflow is to populate the ecoshapes mosaic (i.e., a mosaic of joined ecoregions, ecodistricts or similar ecological land classifications) with species presence information (e.g., present, not-present, presence assumed) using the mined data. Repeatable GIS-based routines (e.g., python scripts) are employed to facilitate and automate this process as much as possible.
Figure 2.  Draft EBAR map for Gypsy Cuckoo Bumble Bee ("automated" mapping phase).  The dots show where occurrence information in a specific ecoshape were documented. The next step is to have experts review and refine the map.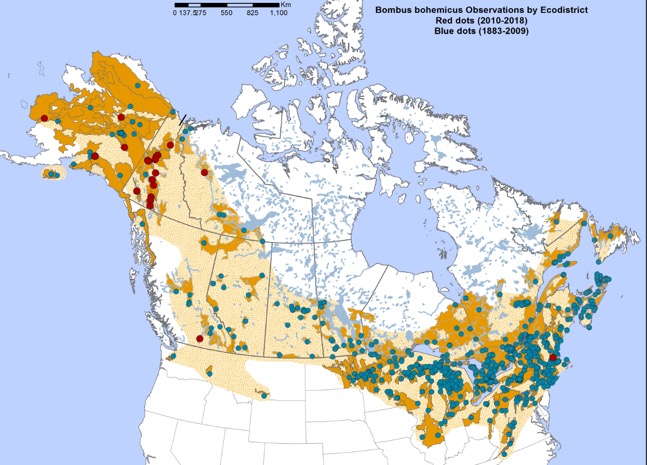 Expert Review
Scientific, traditional and other expert knowledge holders will be recruited to review the "automatically generated" EBAR maps and provide suggestions for improving them using additional data and/or their on-the-ground knowledge. An online map-based review tool will allow experts to engage in this process in an efficient and secure manner. Expert review will be critical to fill in data gaps of the "automated" EBAR maps, particularly for lesser known/rare species.
Data Publishing
NatureServe Canada will make EBAR maps publically available online at no cost. We are currently focused on developing EBAR maps for the Canada Key Biodiversity Areas (KBA) project and for upcoming COSEWIC status assessments and reassessments. Many of these programs will want to make customize and refine the EBAR maps to meet their program's needs.  NatureServe Canada encourages this and will develop EBAR maps in electronic formats that facilitate customization and integration into standard GIS tools. We do ask that any refinements (i.e., additional presence data, on the ground expertise) that would benefit the original EBAR map be made through the online collaboration tool to ensure that EBAR maps made available publically are based on the best available information.
Figure 3.  Draft NatureServe Canada EBAR map (after the expert review and refinement phase) developed for an upcoming COSEWIC status re-assessment of the Short-eared Owl. Presence information for each ecoshape in the Canada terrestrial ecoshapes mosaic was documented for the following occurrence type: breeding, breeding irregular, year-round and wintering.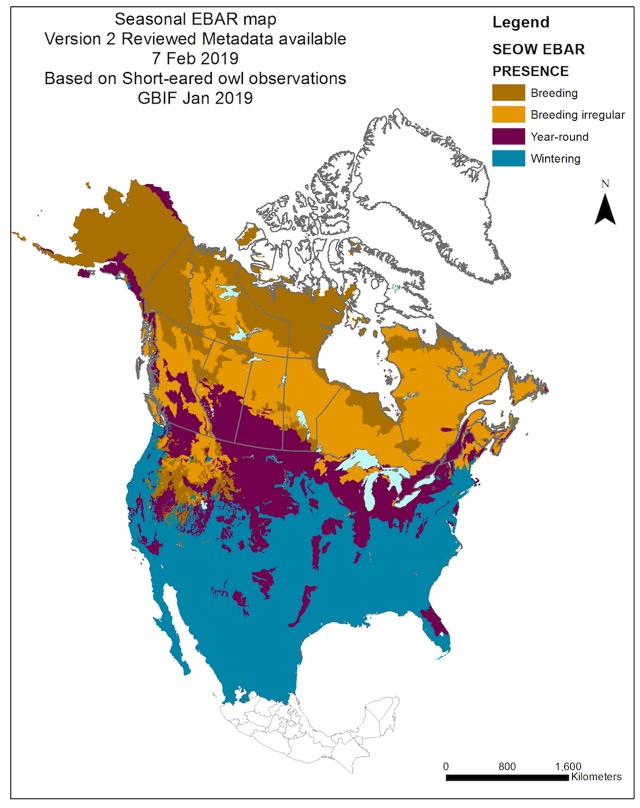 To learn more about NatureServe Canada's EBAR Mapping Project please contact us at:  EBAR-KBA@natureserve.ca