2011 NatureServe Conservation Award Winner: E.O. Wilson
Watch Dr. E.O. Wilson speak for the species during our panel discussion.
In recognition of his immeasurable contribution to science, NatureServe was honored to recognize Dr. Wilson as recipient of our second annual Conservation Award.
Wilson's ideas have helped shape and define an array of disciplines—conservation science, sociobiology, population genetics, and chemical ecology but a few among them. He is the preeminent defender of the scientific and ethical foundations of biodiversity conservation and a steadfast champion for all living things, great and small.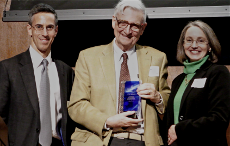 "Humanity is exalted not because we are so far above other living creatures," Wilson wrote in his 1984 book Biophilia, "but because knowing them well elevates the very concept of life."
The NatureServe Conservation Award honors individual or institutional achievements that increase and advance public awareness and scientific understanding of biodiversity conservation. Wilson received his award at the Carnegie Institute for Science in Washington, D.C., on March 8, 2011.
"Thank you so much for this award. I'm very grateful for this recognition and I'm proud to be associated with the necessary, the unique, and the increasingly impressive enterprise led by NatureServe," Wilson said during his acceptance speech. "NatureServe's function is of central importance in humanity's wise management of the environment—which is exceedingly important to our future, because the 21st century, in my opinion, is going to be known as the century of the environment."
Wilson praised NatureServe and its network of natural heritage programs for playing a "critical role" in deepening mankind's understanding of biodiversity and how best to address the threats that the world's plants and animals now face.
"E.O. Wilson has provided inspiration as the most eloquent champion of biodiversity," Mary Klein, NatureServe's president and CEO. "NatureServe is delighted to honor both his achievements and his example through this award."

The award ceremony came on the heels of a panel discussion hosted by NatureServe entitled "Okay, Now What?": A Panel on Climate Change Adaptation.
President and CEO Mary Klein moderated a dialogue with leading experts to discuss the challenges that a changing climate presents in the coming decades for conservation science, policy, investment, and management. Panel participants included (left to right, above):
Mary Klein — President & CEO, NatureServe
Jeff Marqusee – Executive Director, Strategic Environmental Research and Development Program (SERDP) | Director, Environmental Security Technology Certification Program (ESTCP)
Lynn Scarlett – Visiting Scholar, Resources for the Future | former Deputy Secretary and Chief Operating Officer of the U.S. Department of the Interior
Jeff Fulgham – Chief Sustainability Officer & ecomagination Leader, GE Power & Water
E.O. Wilson – Pellegrino University Professor Emeritus, Entomology Department, Harvard University
Dawn Rittenhouse – Director, Sustainable Development, DuPont
Jorgen Thomsen – Director of Conservation & Sustainable Development, John P. and Catherine T. MacArthur Foundation
Greg Czarnecki – Executive Director, Wild Resource Conservation Program, Pennsylvania Department of Conservation and Natural Resources
Both the award reception and panel were part of a yearlong celebration marking NatureServe's 10th anniversary as an independent nonprofit and nearly four decades of achievement by its natural heritage network.