A collaborative effort to identify the places most important for conserving at-risk species.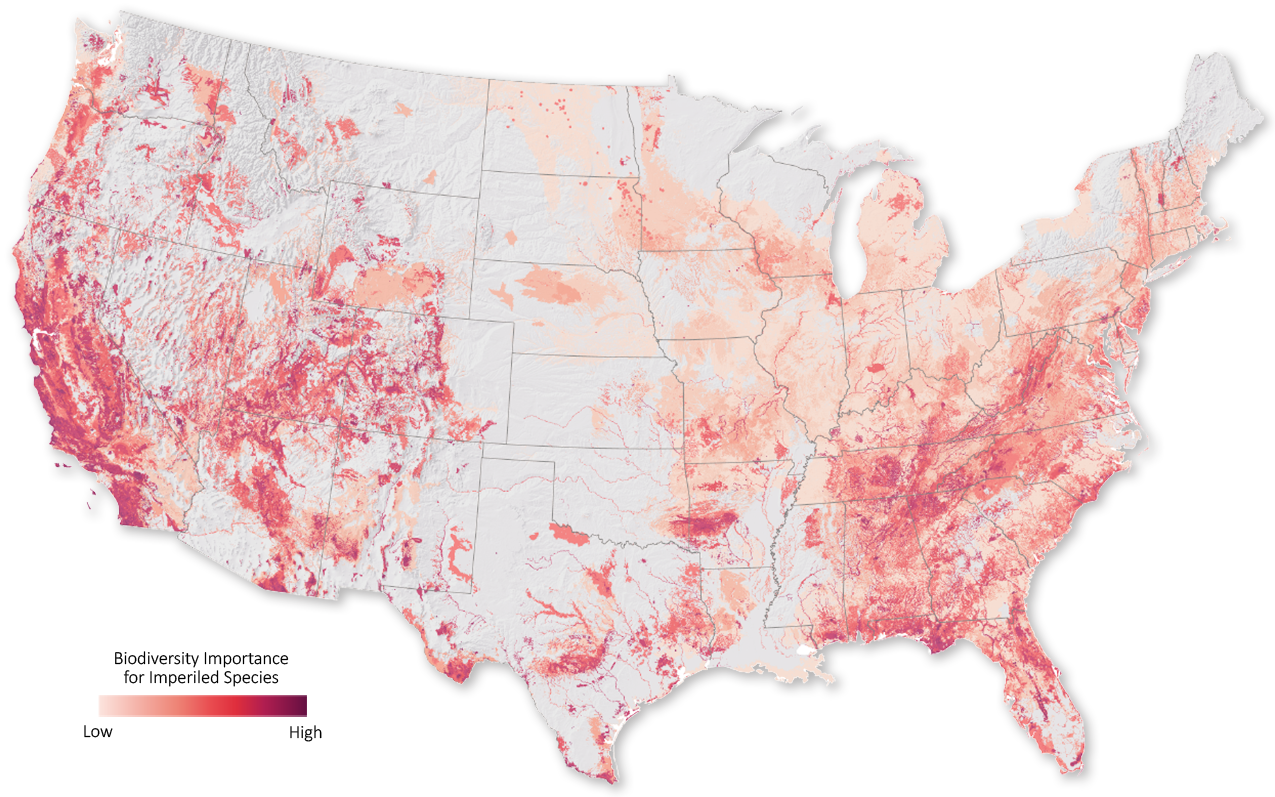 The Map of Biodiversity Importance provides a portfolio of maps that identify areas critical to sustaining our nation's rich biodiversity. Through a landmark collaboration with Esri, The Nature Conservancy, and Microsoft's AI for Earth program, NatureServe and our network of natural heritage programs created a comprehensive set of habitat models for 2,216 at-risk species in the contiguous United States. We analyzed these models in conjunction with protected areas boundaries to map areas of high importance for conserving vertebrates, freshwater invertebrates, pollinators, and plants. These publicly available products provide an invaluable input to guide effective conservation decision-making.
Read about it in the New York Times
MARCH 3, 2022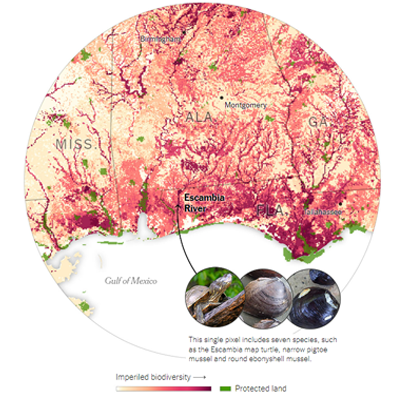 Project Highlights
From start to finish, the mapping was informed by the authoritative data and deep local knowledge of the NatureServe Network, the nation's leading source of data and expertise for at-risk species.
Products include data for a taxonomically and ecologically diverse set of species, including vascular plants, aquatic invertebrates, and pollinating insects—as well as vertebrates.
Detailed habitat maps for each species were built using state-of-the-art machine learning and cloud computing resources from Microsoft's AI for Earth program.
Comprehensive, standardized metadata support transparency and model evaluation.
A national library of over 200 high-resolution environmental data layers and a collaborative online model review tool will support continuous refinement of species habitat maps into the future.
New insight on the implications of taxonomic diversity and spatial resolution for conservation priority setting.
Major Outputs
Unparalleled maps identifying areas of biodiversity importance critical to preventing extinctions in the contiguous United States
Habitat models for over 2,200 at-risk species that NatureServe can adapt to support a wide range of management needs
Learn More
Dr. Healy Hamilton and Regan Smyth unveiled the Map of Biodiversity Importance results to an audience of over 5,000 federal partners at the Esri Federal GIS Conference in February 2020. Watch the video of their keynote address below to learn more about how the habitat models were created and how these high-precision, dynamic data can be used to inform conservation action. You can also scroll through the storymap below (or view fullscreen on Esri's website) to see some of the exciting and surprising results from the project. Final map products are available on Esri's Living Atlas of the World—learn more in this ArcGIS blog.
Project Partners
Network Programs Involved
With additional project support in the form of data and species expertise from across the NatureServe Network.