NatureServe 2016 Annual Report
NatureServe 2016 Annual Report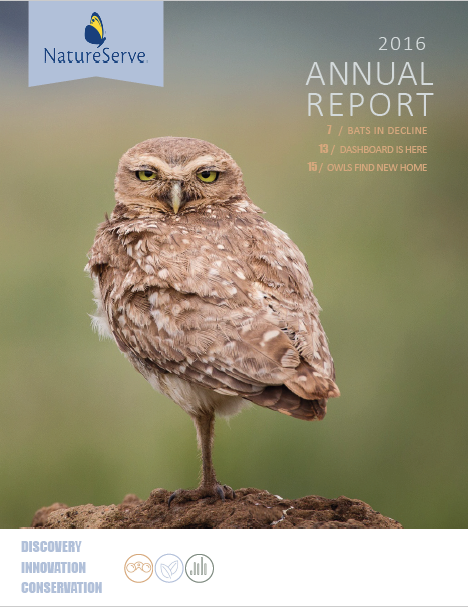 "Over the past year and a half, the NatureServe Network has accomplished amazing things. From rediscovering precious lost species, engaging citizen scientists, and shining a spotlight on the flora and fauna most in need, our expertise and "boots on the ground" data-gathering have a global impact because of the power of our Network.
Innovative tools such as the Biodiversity Indicators Dashboard now allow us to analyze and measure biodiversity trends for every country on the planet. Conservationists can now access user-friendly visual reports and over 300 data layers to make the best decisions for important places like the Chesapeake Bay. Our public-private collaborations empower decision-makers to evaluate different scenarios of conflicts in land use, resulting in successful conservation outcomes such as Puerto Rico's recent achievement: protection of 16% of its territory.
Together, we are creating a world where everyone has access, at their fingertips, to up-to-date knowledge about Earth's unique, rare, and threatened species and habitats."
- NatureServe Board Chair Nicole Firlotte
Citation
NatureServe. 2017. 2016 Annual Report. 24pp. Arlington, Va.