NatureServe Canada report finds increase in globally at-risk species in Canada
Habitat loss, climate change are key reasons
---
On Guard For Them Report Release at Biodiversity Without Boundaries 2017 on Vimeo.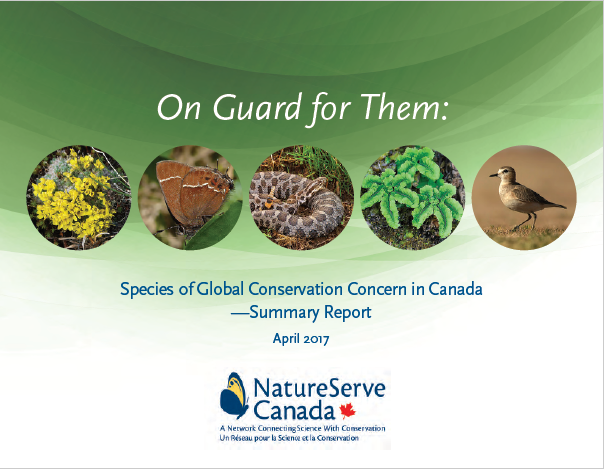 OTTAWA, ON (April 12, 2017) – A new NatureServe Canada report on globally rare species in Canada shows an increase in the number of animals, plants and lichen facing threats to their existence. In fact, 517 species that occur in Canada are now classified as being globally at risk.
The report, entitled On Guard For Them: Species of Global Conservation Concern in Canada, was released at the NatureServe Biodiversity Without Boundaries international conference in Ottawa. It spotlights the native species (including sub-species and varieties) of plants and wildlife most at risk of being lost to extinction in Canada, such as tiger beetles, freshwater mussels, freshwater fishes, ferns and mammals. Canada also has 38 bird and 37 mammals that are globally at risk, including swift fox, hoary bat, Sprague's pipet and piping plover.
The report was prepared by NatureServe Canada and provincial and territorial Conservation Data Centres, and was supported by partner organizations, including Parks Canada and the Nature Conservancy of Canada (NCC).  The report presents findings on the global conservation status of 13 groups of species — from mammals, birds, reptiles, turtles and amphibians to freshwater mussels and flowering plants. The report assigns a global conservation ranking that ranges from presumed extinct to secure.
By a wide margin, British Columbia has more plants and animals (231) that are globally at risk than any other province or territory. This is due to the province's high diversity of habitats and the many islands that harbour unique and rare species. Ontario (123), Quebec (118) and Alberta (83) are the jurisdictions with the next highest numbers of globally at risk species.
On Guard For Them, which can be viewed here, aims to improve our awareness about these species and focus conservation efforts to ensure these species are protected.
"It is Canada's responsibility to protect these species of global conservation concern and prevent their extinction. Habitat loss and degradation, invasive species and climate change are often the principal cause of species loss or decline," said Dan Kraus, national conservation biologist with the Nature Conservancy of Canada. "NCC has played a critical role protecting  habitat for over 100 globally rare species across Canada, particularly for those that have small ranges and population numbers. By protecting, managing and connecting the habitats of globally rare species, our work is supporting conservation in Canada and global efforts to halt species extinctions."
"As we look ahead to the future, the availability and application of science for effective decision-making has never been more urgent or timely," notes Gregory Miller, President and CEO of NatureServe. "On Guard For Them is powered by science and a critically important call to action to protect at-risk species and natural heritage in Canada that are fundamental for human society as well as the foundation for a diverse and resilient natural world."
"The Global ranks for species occurring in Canada developed for this report are the result of the collaborative efforts of all of our network members, and required the consistent application of NatureServe methodology across the jurisdictions," said Patrick Henry, NatureServe Canada's Executive Director.  "We will work with our members and partnering organizations, including the Nature Conservancy of Canada, to distribute the report information and findings to the public and decision-makers, to ensure that conservation actions in Canada and beyond our borders are informed by this important work" said Henry.
Report Facts
On Guard For Them presents findings regarding the global conservation status of 7,208 species native to Canada.
Since 1844, at least 109 species in Canada have vanished, but continue to exist in the United States and/or elsewhere. Six that could only be found in Canada have been lost over that time and are presumed extinct. 
Sixty-six species endemic to Canada from among the 13 species groups reported on in 2005 were globally at risk in 2005. In 2016, 77 of them were globally at risk.
Canada has 213 species that are endemic to the country and that are of global conservation concern. 
Thirty-eight of the globally at-risk species span three or more nations and as a result require multilateral cooperation for conservation success. In addition, the critically imperilled Peary caribou, in the Northwest Territories and Nunavut and reported from Greenland, requires bilateral conservation cooperation between Canada and Denmark.
Note: Species numbers provided in the press release include subspecies and varieties.
Learn More
The Nature Conservancy of Canada is the nation's leading land conservation organization, working to protect our most important natural areas and the species they sustain. Since 1962, NCC and its partners have helped to protect 2.8 million acres (more than 1.1 million hectares), coast to coast.
About NatureServe Canada
NatureServe Canada functions as a network of provincial and territorial Conservation Data Centres (CDCs) to develop, manage, and distribute authoritative information critical to the conservation of Canada's biodiversity. Data held by NatureServe Canada are widely used by federal and provincial agencies, private industry, researchers and conservation organizations to improve the management, use and conservation of biological resources in Canada. NatureServe Canada also represents Canadian CDCs within the broader international network of similar centres throughout the western hemisphere known as NatureServe. By operating as a network, NatureServe, NatureServe Canada and the CDCs are able to provide consistent and high-quality ecological information and services at a geographic scale beyond the jurisdiction of individual members. Visit the NatureServe Canada website.
Media Contacts
Andrew Holland
National Media Relations Director
Nature Conservancy of Canada
1-877-231-4444 (toll free)
1-506-260-0469 (mobile)
andrew.holland@natureconservancy.ca
Patrick Henry
Executive Director
NatureServe Canada
613-986-1535