Analysis of Conservation and Economic Value of Forest Stands (Arkansas)
---
About This Project
NatureServe conducted this analysis working collaboratively with the Arkansas Natural Heritage Commission and Potlatch Corporation. ANH first conducted ground surveys of the area to supplement existing biodiversity observation data. Next, NatureServe produced eight views of conservation value of Potlatch forest stands using NatureServe Vista software and the combined that information with forest stand economic value provided by Potlatch. This resulted in seven views of the combination of conservation value and stand economic value. We stratified the stand results into three decision categories: 1) forestry opportunity for economic value, 2) conservation opportunity, 3) areas of conflict requiring additional analyses, ground truthing, and careful management planning. In all combinations except one, the large majority of stands fall in the category of conflicted values.
Goal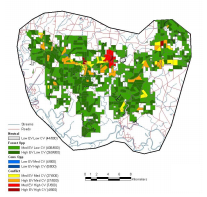 Potlatch Corporation sought to understand where economic and conservation values of its forest stands do and do not conflict to allow more rapid progress in management planning by identifying areas where agreement can rapidly be reached and those that require more analysis and negotiation.
Significance
The analyses confirmed the results of regional analyses by the Arkansas Natural Heritage Commission and The Nature Conservancy that the study area was of high conservation importance and that most forest stands had conflicted value with commodity production. The information was used to inform Potlatch management planning and disposition of land holdings.