Microsoft Awards $1.2 Million Software Grant to NatureServe
Gift bolsters technology in service of conservation and science
---

Microsoft has announced that it is giving a Corporate Citizenship software grant to NatureServe. Valued at $1.2 million, this grant supports Enterprise IT Infrastructure for Tracking Global Biodiversity Trends.
NatureServe—a non-profit science and conservation organization—is a leading provider of biodiversity and conservation data, tools and expertise. Together with its Network of 80 member organizations, NatureServe will utilize Microsoft's technology to fulfill its mission of providing the scientific basis for effective conservation action.
"Microsoft products have long been an important component of NatureServe's IT systems," said Lori Scott, NatureServe's Interim President and Chief Information Officer. "NatureServe and Microsoft share a commitment to software and technology innovation that creates positive impacts on the environment. This grant adds much-needed capacity to the systems that support our international Network and improve our mission impact."
Kim Nelson, Executive Director of State and Local Government Solutions at Microsoft, believes this grant aligns with Microsoft's corporate environmental sustainability values.
"NatureServe is a non-profit with an international footprint. Their use of hard science and technology to protect plants, animals and ecosystems aligns with Microsoft's corporate values," Nelson said.

One of NatureServe's primary goals is to work with its international Network to deliver high-quality data about rare and endangered species to decision-makers. This generous Corporate Citizenship grant will give the NatureServe Network the technological tools to respond to the six million plus conservation data inquiries it receives each year.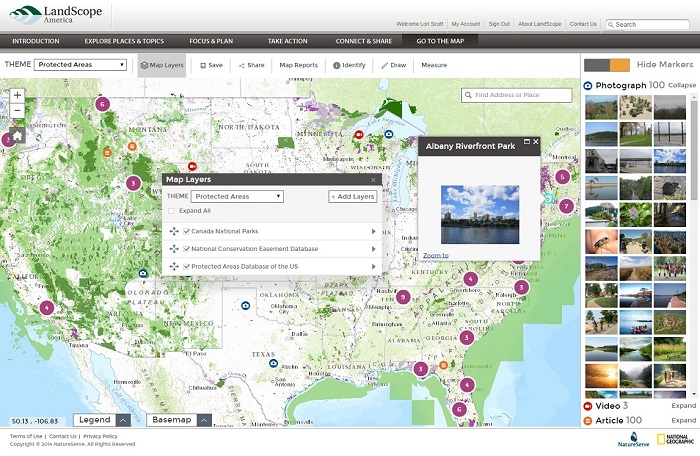 The grant, a continuation of a 2011 donation, secures and renews essential Microsoft software licenses to run NatureServe's mission critical information delivery systems. Microsoft powers NatureServe's cloud computing infrastructure, including Biotics 5, the federated biodiversity database used by NatureServe Network programs to track more than 40 years of field-inventoried observations on over 75,000 at-risk plants, animals and ecosystems. Most of this information can be publically accessed for free through online interactive tools like NatureServe Explorer and LandScope America.
NatureServe's IT infrastructure currently supports the work of more than 1,000 conservation professionals operating throughout the western hemisphere. Microsoft solutions are an essential component of NatureServe's cloud computing profile, and through the generous and continued support of Microsoft's software donation, NatureServe has transformed the systems that underpin the NatureServe Network's data management platform into a more efficient, flexible, and sustainable solution.
About NatureServe
NatureServe is a non-profit organization that provides high-quality scientific expertise for conservation. Our dynamic and impactful data, tools, and expertise help guide conservation action where it's needed most. We envision a world where decision-makers fully understand the importance of science, and use information provided by the NatureServe Network to identify and protect our precious animals, plants, and ecosystems.