2012 Conservation Impact Award Co-Winner: the Florida Natural Areas Inventory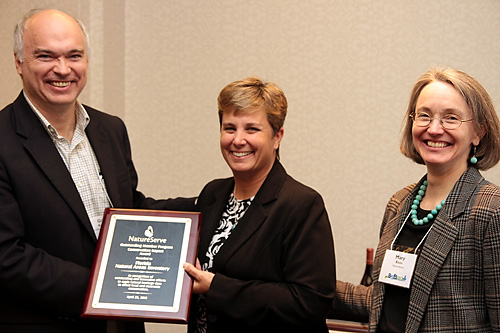 The Florida Natural Areas Inventory published of the Atlas of Florida's Natural Heritage in November 2011 to advance science-based conservation planning and decision-making, winning accolades from state partners—Audubon of Florida, The Nature Conservancy's Florida Chapter, and the Florida Wildlife Federation—as well as being a double-winner in the Cartography and Geographic Information Society's international map-design competition, named "best atlas" and the overall "best in show." State legislators' interest in the Atlas also put FNAI before the Florida Senate's Committee on Environmental Preservation and Conservation.
"We believe the conservation of Florida's biodiversity and significant natural areas is a critical and urgent need," said Gary Knight, director of FNAI. "We are proud to be part of the NatureServe network of natural heritage programs and conservation data centres, so it is especially gratifying to have our efforts earn the recognition of our peers."
From FNAI's base at Florida State University, August 2011 brought the release of version 2.0 of Florida's Critical Lands and Waters Identification Project (CLIP), a natural resource inventory derived in large part from FNAI's Florida Forever Conservation Needs Assessment. Developed with partners at the University of Florida Center for Landscape Conservation Planning and Florida Fish and Wildlife Conservation Commission.
FNAI also started testing the initial recommendations of the Yale Science Panel for Integrating Climate Adaptation and Landscape Conservation Planning through a project entitled "Re-evaluating Florida Ecological Conservation Priorities in the Face of Sea-level Rise." Working with a select group of conservation biologists and policy-makers that include representatives from both NatureServe and the Virginia Natural Heritage Program, FNAI is charged with helping to develop clear guidance about strategies for integrating climate change adaptation and conservation planning.
"FNAI stands out as an influential leader, both in the state of Florida and within our international network," said Mary Klein of NatureServe. "The sustained contributions they have made to biodiversity conservation set a high bar of achievement and have inspired the work of others across the Americas."