2012 Conservation Impact Award Co-Winner: SalvaNATURA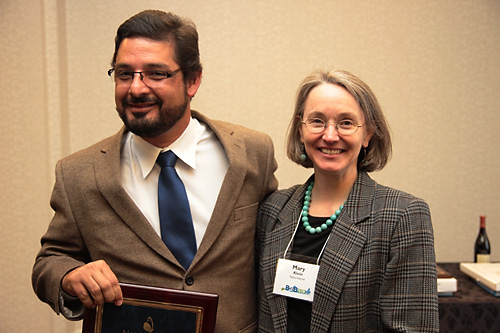 Forests cover some 25 percent of El Salvador. Coffee plantations account for 10 percent of these forests, while 3 percent are natural areas. Since the mid-1990s, SalvaNATURA has been a tireless champion of efforts to conserve both sustainable coffee forests and protected areas.
The San Salvador-based foundation's contributions to improved agricultural practices in El Salvador and surrounding countries as well as advancement of the science and practice of both bird and ecosystem conservation. SalvaNATURA is a founding member of the Sustainable Agriculture Network, which established and maintains the "Rainforest Alliance Certified" standard for coffee production. The foundation's efforts have helped increase the number of farmers committed to these standards, and now guarantees that 18,000 hectares of the nation's coffee plantations follow environmentally responsible agricultural practices.
El Salvador is now the third-largest exporter of environmentally responsible coffee.
"Our path of more than 22 years has allowed us to create the solid ground to build the so-longed-for sustainable development in El Salvador," said Alvaro Moises, executive director of SalvaNATURA. "This award honors our confidence that the conservation of the biological corridors preserves ecosystem services for the benefit of the population, whether we are working to generate local opportunities through sustainable agriculture, scientific investigation on biodiversity, or increased awareness through environmental education."
Sustainable coffee farms in El Salvador must maintain at least 40 percent forest cover—a practice that benefits biodiversity by allowing these agro-ecosystems to function as additional refuges for migratory and resident birds. A recent scientific study by SalvaNATURA highlighted the vital habitat that certified coffee farms provide for migratory birds in the Apaneca Mountain Range Biological Corridor—the primary coffee production area, located in western El Salvador.
SalvaNATURA reaches out to communities where its staff work, playing a key role in El Salvador's sustainable development by making residents aware of environmental issues and teaching them how to use ecosystem services responsibly. The foundation's influence also extends beyond its borders through environmental education projects and farm certification in neighboring Honduras and Nicaragua.
"By promoting sustainable forest stewardship in the coffee industry, SalvaNATURA ensures the protection of habitat for migratory birds flying between North and South America," said Mary Klein of NatureServe. "This award recognizes the strength of these achievements and powerfully symbolizes how the combined efforts of the NatureServe network can conserve biodiversity across the Western Hemisphere."