Colorado NHP Takes Home 2014 Collaboration Award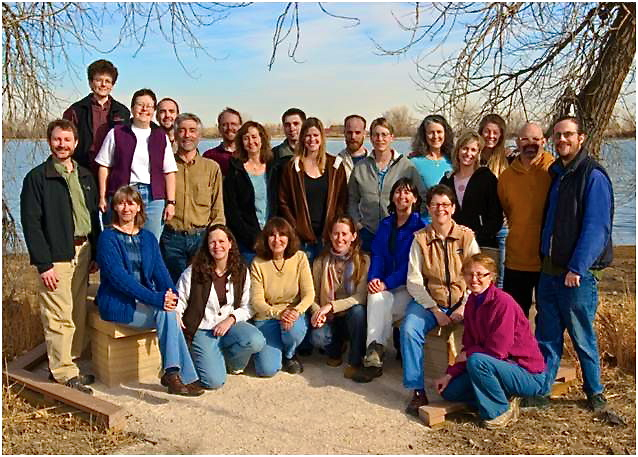 A reputation for creative collaboration and a track record for building partnerships has earned the Colorado Natural Heritage Program (CNHP) the 2014 NatureServe Collaboration and Mentoring Award.
CNHP—part of Colorado State University's Warner College of Natural Resources—was one of three members of the NatureServe network whose recent accomplishments merited the recognition, handed out at NatureServe's annual Biodiversity Without Boundaries conference.
Before and during the conference, NatureServe members hailed CNHP as an outstanding program that has proved itself eager to assist, share with, and take part in the work of its peers.
"Collaboration is one of NatureServe's core values, so it's especially important to honor programs like CNHP that embody the spirit of teamwork," said Mary Klein, president of NatureServe. "Their generosity has touched people all around the world, and helped strengthen the fabric of our entire network."
They have lent their technical and scientific expertise to the Greater Sage-Grouse Habitat Exchange program in Colorado. Their bio-assessment tools for gauging wetlands are being expanded into a regional tool. And they have pushed to help other natural heritage programs collaborate with Landscape Conservation Cooperatives. As a result of these and other efforts, CNHP has established itself as a "go-to" natural heritage program that actively seeks out partnerships to strengthen the entire network.
That was in full display last year when CNHP forged an innovative partnership with Odell Brewing Company to help protect the hops blue butterfly, an imperiled species confined to the Rocky Mountain slopes of Colorado, known as Celastrina humulus. The outcome: Last May, Odell created the Celastrina Saison line of beer, and donated $1 for every bottle sold. That has, to date, netted more than $12,000 for the study of the butterfly's ecology. CNHP is now mentoring two undergraduate honors students to spend a semester researching the relationship between the butterfly and its host plant, Humulus lupulus.
"It was a transformative year for us in many ways. We formed a lot of new partnerships. We had a very successful partner's meeting where we really galvanized our relationships with some of our old and new partners," said David Anderson, CNHP's director. "But I think the thing that I'm most excited about is just the role that we've been playing in the NatureServe network this past year with states all across the country, and Latin America, and Canada. We love working with everybody. I feel really strongly about our network, and we have a lot of love for our network, so it's just a huge honor to receive this award."
Among Colorado's many contributions to the NatureServe network:
Anderson believes the award—and a growing eagerness of all member programs to collaborate—stands as a measure of the vitality of the NatureServe network as a whole.
"The network remains completely unique in the kinds of services, the kinds of science, and the expertise that we can bring to a wide range of stakeholders out there," he said. "We remain as relevant as we've ever been, and the challenges that we face now in this age of big data are things that if any organization and network can surmount, we can."
The Colorado Natural Heritage Program is part of the Warner College of Natural Resources at Colorado State University. CNHP's goal is to preserve the natural diversity of life by contributing the essential scientific foundation that leads to lasting conservation of Colorado's biological wealth. To learn more, visit http://www.cnhp.colostate.edu/