Experience the New LandScope America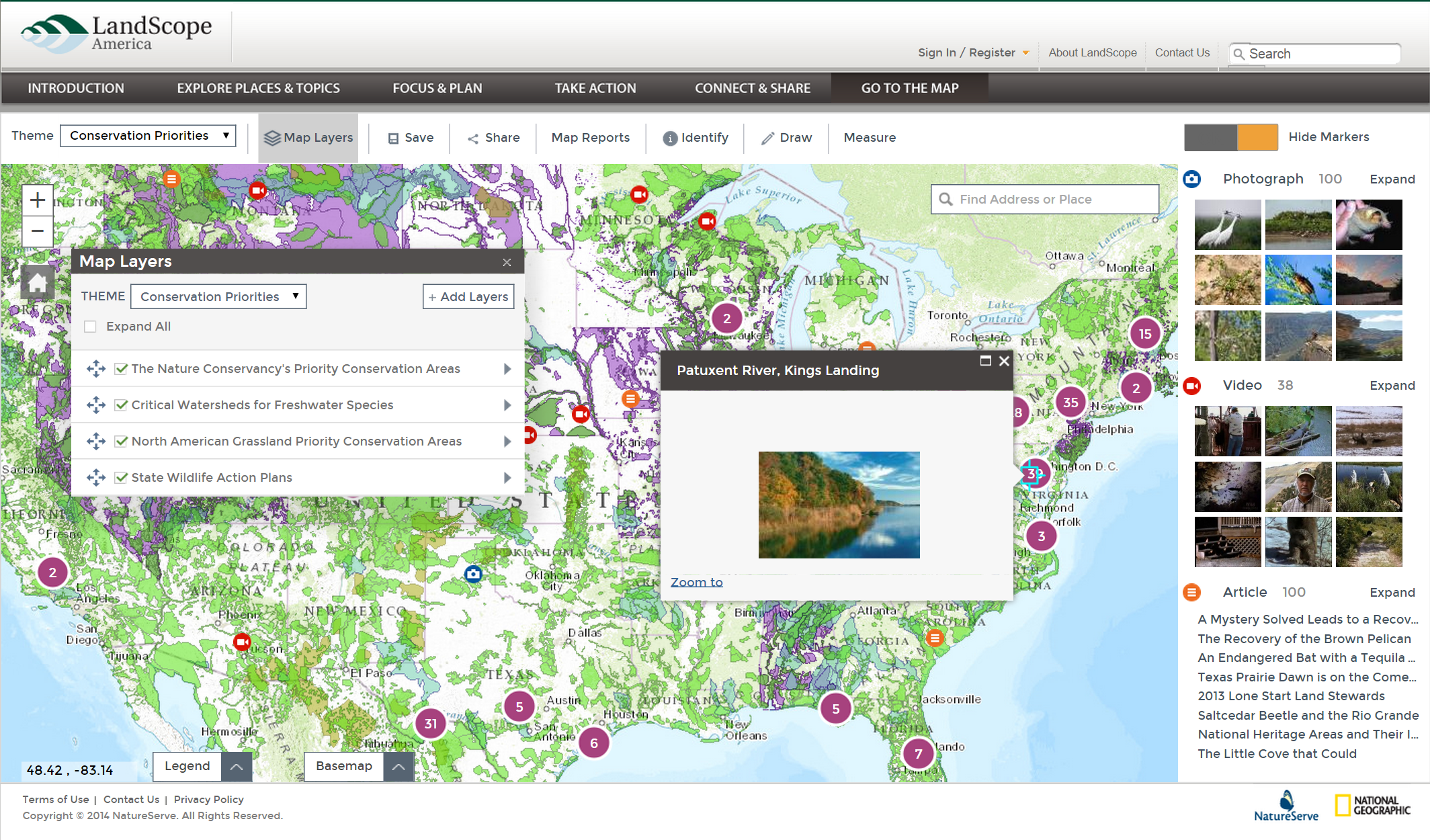 Sleeker, faster, more modern—experience the new LandScope America, our innovative online tool that combines maps, articles, videos and photos to tell the story of our nation's most cherished places.
This top-to-bottom overhaul of LandScope's technical architecture presents users with a completely redesigned map viewer, as well as upgraded capabilities that improve the user experience in a variety of ways, including:
Mapping tools that more quickly and intuitively enable LandScope's 300-plus data layers
More map options powered by ArcGIS Online—users can search on the tag "LandScope" and combine the results with their own datasets
iOS compatibility for LandScope's thousands of maps, videos, photos, and articles
A more direct and dynamic system for pulling map layers from LandScope's data partners—for example, maps depicting a state's most crucial habitats
"We've rebuilt LandScope from the ground up to allow for faster map-drawing, more efficient data and multimedia publishing, and a more intuitive user interface—but most of all, to create an easier and better way for conservationists to make their most urgent decisions," said Lori Scott, NatureServe's Chief Information Officer.
Scott unveiled the new LandScope to the Chesapeake Conservation Partnership on Oct. 3 in Shepherdstown, WV, where stakeholders gathered to shape the course of progress toward compliance with the Chesapeake Watershed Agreement reached this summer by Virginia, Maryland, Delaware, West Virginia, Pennsylvania, New York, and Washington D.C.
The agreement's most ambitious goal: to protect an additional 2 million acres of land by 2025.
More than 70 conservation leaders from federal and state agencies and NGOs—including NatureServe, the Land Trust Alliance, Chesapeake Conservancy, The Conservation Fund, and The Nature Conservancy—were on hand Oct. 2-3 as the partnership took its first steps toward developing an overall management strategy for meeting the goals laid out in the new agreement.
LandScope, since the launch of its Chesapeake-focused platform in 2012, has been the shared GIS system in which members of the partnership compile data and share updates on priorities and conservation efforts throughout the watershed.
"With the new upgrades, LandScope will be an even better venue through which to identify those 2 million acres and track progress toward their protection," Scott said. "LandScope's users in the Chesapeake Bay—as well as across the country—have a lot to be excited about."