Healy Hamilton receives the SFI Conservation Leadership Award
NatureServe's Chief Scientist, Dr. Healy Hamilton, was honored today with the Sustainable Forestry Initiative (SFI) Conservation Leadership Award for her instrumental leadership illustrating the conservation value of forest lands. Dr. Hamilton was presented with the award at SFI's annual conference, which was aptly titled "Forests of Opportunity."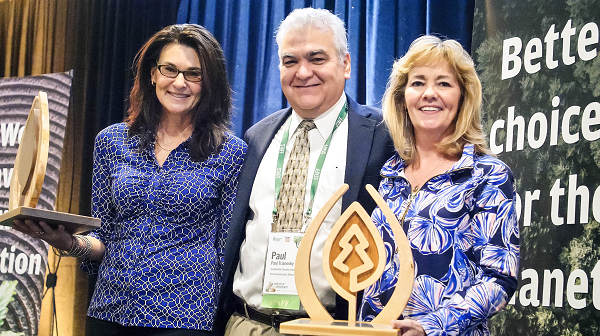 The work Dr. Hamilton led was vital to the success of SFI's Conservation Impact Project, which measures the conservation benefits of lands meeting the SFI Management Standards for sustainably managed forests, and focuses on three key topics: water, carbon, and biodiversity.
Under Dr. Hamilton's leadership, NatureServe assessed millions of acres of SFI-certified lands in the Southeast and Pacific Northwest United States for the potential to provide essential habitat to rare and at-risk species. With the highest resolution data on species and ecosystems in the nation, NatureServe is uniquely qualified for analyses such as these.
"With support from SFI, our research has developed metrics to assess how SFI certified forests are performing relative to biodiversity at multiple scales, including threatened species, unique habitats, and landscape resilience," Dr. Hamilton said. "Our project benefited from active collaboration of many SFI program participants, who provided essential data that made these analyses possible. Our conservation metrics work brings increased transparency to the biodiversity values of SFI-certified forest lands."
One of the challenges with a project of this scale was acquiring data from private forestry companies. Dr. Hamilton negotiated directly with SFI-certified organizations to gain access to the environmental information about their lands needed to make the project scalable across geographies and ecosystem types. "Healy's ability to navigate and move those negotiations was absolutely critical," said Paul Trianosky, SFI's Chief Conservation Officer. "She worked with eight SFI-certified organizations, who were able to show how SFI standards support biodiversity at large scales."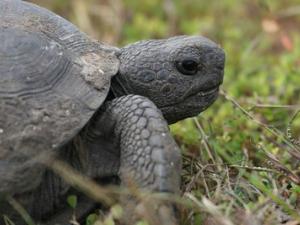 Many rare species were found to benefit from sustainably managed forests throughout the study areas. One such species, the gopher tortoise (Gopherus polyphemus), is native to the Southeast and listed as threatened under the Endangered Species Act. The study found that over 150,000 acres of its habitat in Florida are on SFI-certified lands, demonstrating their conservation value for protecting at-risk species.
A major outcome of this project is a series of metrics that can be "scaled up" more broadly throughout the SFI footprint and used by any SFI program participant to measure the conservation benefits of the lands they manage. By extending the metrics developed in the initial study throughout the U.S. and Canada, NatureServe has made it possible to analyze the conservation value of 100% of SFI-certified lands.