NatureServe Releases Map of Biodiversity Importance on Esri's Living Atlas of the World
Unveiling the first high resolution view of where our nation's most imperiled species are found
NatureServe's newly released Map of Biodiversity Importance is now available on Esri's Living Atlas of the World, providing an unprecedented, high-resolution view of the places that matter most for sustaining our nation's biodiversity. By applying cutting-edge machine learning technology to 50 years of field data collected by the NatureServe Network of Natural Heritage Programs, including ecologists, botanists, and zoologists across the United States, the Map of Biodiversity Importance arms resource managers and conservationists with critical information needed to strategically address the extinction crisis.
The findings presented in the Map of Biodiversity Importance can be used to inform conservation efforts in a brand-new way. Whereas most previous map analyses in the U.S. focused on vertebrates, for the first time, fine-resolution maps are available for a taxonomically diverse range of species. This includes over 1,600 imperiled plants, and freshwater species such as mussels and crayfish, bringing to light specific new areas that harbor globally significant biodiversity. The map highlights areas with concentrations of imperiled, small-ranged species that fall outside of existing protected areas, helping local communities understand their biological resources, and serving as an input into tools used by state and federal agencies, land trusts, corporations, and private citizens for conserving and restoring biodiversity.
A product of collaborative science, the Map of Biodiversity Importance draws on the computational resources and expertise of NatureServe, Esri, the Nature Conservancy, and Microsoft's AI for Earth program to synthesize over forty years of data and deep local knowledge from the NatureServe Network. Through this partnership, NatureServe used machine learning and Living Atlas environmental variables to bring the final product to life – a map which features a taxonomically and ecologically diverse set of the nation's most imperiled plants and animals. When taken together, these data become what Dr. Healy Hamilton, Chief Scientist at NatureServe, describes as "a new tool that is part of the intelligent nervous system for conserving the diversity of life."

"We want to inspire and empower more people and organizations to engage in conservation," said Jack Dangermond, Esri founder and president. "The Map of Biodiversity is an outstanding source of information on excactly where those efforts would have the greatest impacts, and is a great tool for making what used to be a large-scale endeavor accessible for everyone."

"When we think of biodiversity, we may reflect on tropical rainforests or coral reefs, where the richness of life is indeed staggering," said Dr. Hamilton, "but our own country harbors globally significant biodiversity. The findings from the Map of Biodiversity Importance show us areas critical for preventing extinction across the nation."

The newly released map enables conservationists to identify which places harbor the most at-risk species that currently fall outside of protected areas. The brightest colors on the Map (below) reveal where multiple threatened species occur outside of the 10% of lands and waters in the lower 48 states that are already designated for conservation. This information can be used to inform public-private partnerships such as Candidate Conservation Agreements and Habitat Conservation Plans.

One major finding is that areas in need of conservation investment are not concentrated only in recognized hotspots but exist across the country. "Our analytics indicate nearly ninety percent of the human population in the lower 48 states live within 30 miles of an area of high importance to biodiversity conservation. These findings illustrate our nation's rich biodiversity and how closely connected we are to its future well-being" stated Sean T. O'Brien, President and CEO of NatureServe.
There are 15 map layers, now available on Esri's Living Atlas. Users can interact with these data and analyze them using the ArcGIS Platform.
You can access the Map of Biodiversity Importance resources on NatureServe's Hub site or Esri's ArcGIS Living Atlas of the World.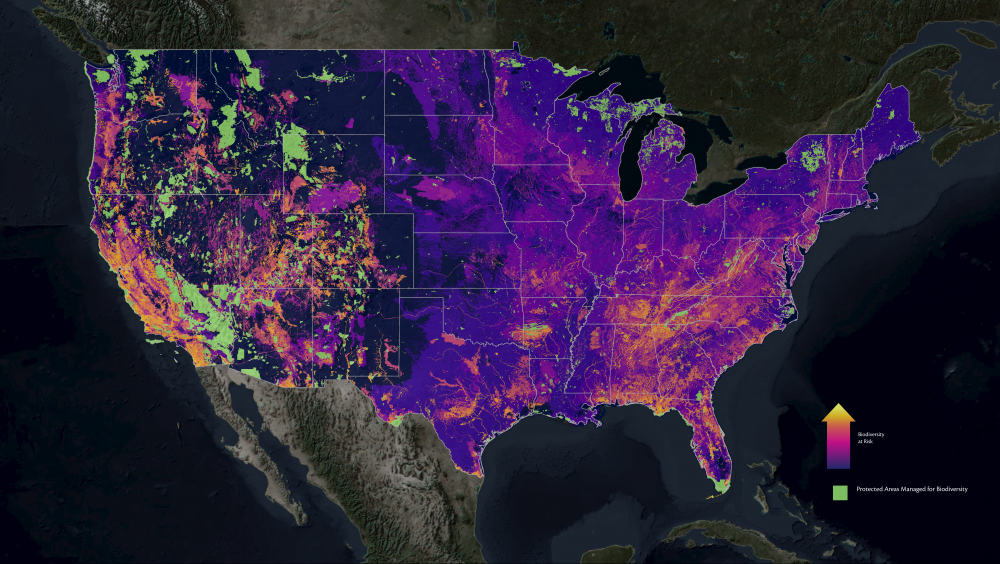 To learn more about the Map of Biodiversity Importance watch the full plenary session at ESRI's 2020 FedGIS Conference:
About NatureServe
NatureServe is a U.S.-based nonprofit with more than 40 years' experience monitoring biodiversity throughout the Western Hemisphere and harmonizing biodiversity data for its use in public policy. To protect threatened biodiversity, NatureServe works with nearly 100 network organizations and over 1,000 conservation scientists to collect, aggregate, and standardize biodiversity statistics, providing comprehensive data to the public for strategic conservation efforts. NatureServe and its network partners develop and manage the most comprehensive data for over 100,000 species and ecosystems, answering fundamental questions about what exists, where it is found, and how it is doing.
About Esri
Esri, the global market leader in geographic information system (GIS) software, location intelligence, and mapping, offers the most powerful geospatial cloud available, to help customers unlock the full potential of data to improve operational and business results. Founded in 1969, Esri software is deployed in more than 350,000 organizations including 90 of the Fortune 100 companies, all 50 state governments, more than half of all counties (large and small), and 87 of the Forbes Top 100 Colleges in the US, as well as all 15 Executive Departments of the US Government and dozens of independent agencies. With