NatureServe Scientists Uncover Striking Decline in Status of North American Bats
First comprehensive assessment focusing exclusively on 45 bat species occurring in the United States and Canada finds a recent decline in conservation status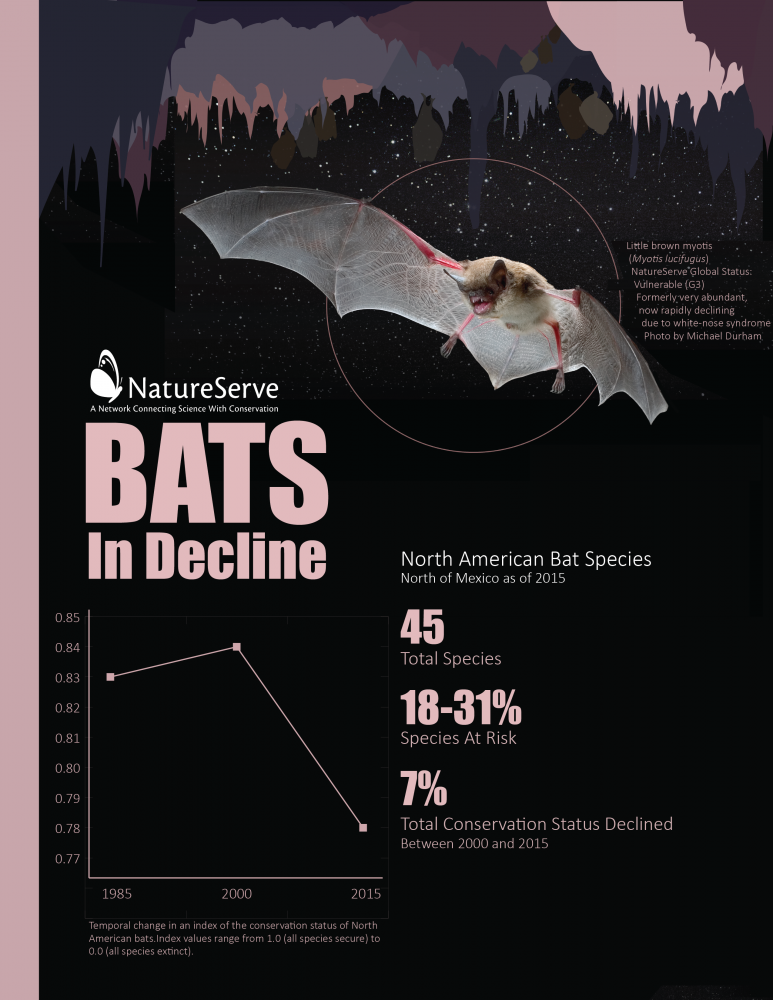 ARLINGTON, VA – Persecuted for much of human history, and co-opted by Hollywood as frightening symbols of darkness and the inspiration for a mysterious superhero, bats have more recently become the center of conservation campaigns. It helps that in North America, most of the 45 species of bats are consummate insectivores, ridding our environment of countless tons of noxious and agriculturally damaging cutworm moths, beetles, mosquitos, flies, and other pests. In the Southwest and in Mexico, bats pollinate the world's most spectacular giant cacti, as well as towering agave plants, without which we would be forced to lead tequila-free lives.
Alarmed by widespread declines in cave-roosting species, conservationists began restricting entrances to bat caves to prevent harassment from intruders. By the turn of the 21st century, these efforts were paying off as populations of species such as the gray myotis and Indiana myotis began to recover. Yet today, WNS is rapidly spreading and threatens to decimate these and other bats. Meanwhile, the rapid expansion of wind infrastructure threatens migratory species such as the eastern red bat.
A new study reveals that bats, one of the largest groups of mammals, are in sharp decline in North America. The 21st-century spread of the deadly fungal disease known as white-nose syndrome (WNS) and, to a lesser extent, threats caused by collisions with wind energy infrastructure have effectively erased earlier gains in bat conservation due to better protection of roosting caves from disturbances.
The findings, published in the journal Biological Conservation, provide a continent-wide context for the plight of these iconic animals. Previously, scientists had documented the collapse of numerous roosting aggregations of bats to the disease and the deaths of thousands of bats at wind energy facilities, but the overall impact on North America's bat fauna was not fully understood.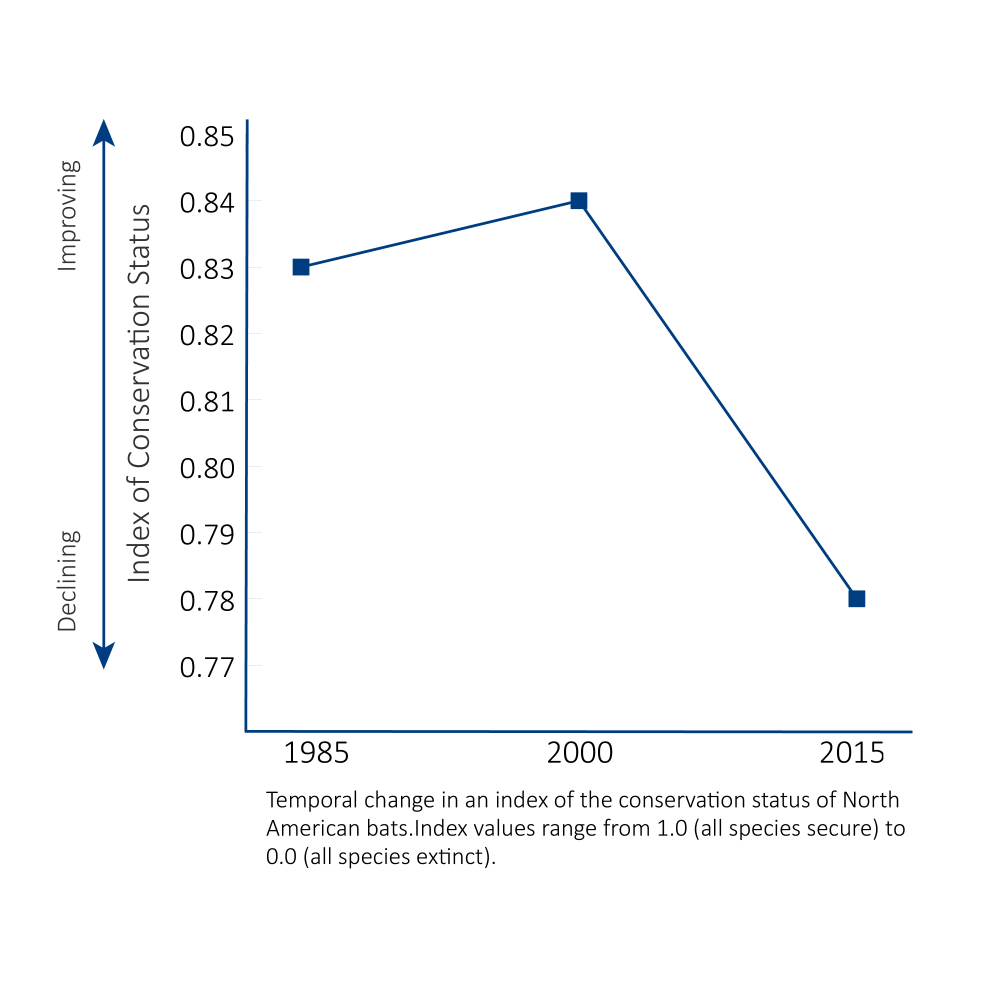 The new study confirms that 18% of bat species are at risk of extinction, with an additional 13% potentially at risk. This places bats among the most threatened groups of North American vertebrates, more threatened than birds, lizards, snakes, and mammals overall. Only freshwater groups such as fishes, amphibians, and aquatic invertebrates are more threatened.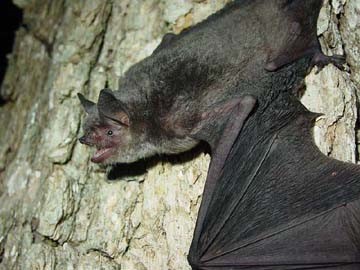 The study used a standard methodology to assess conservation status developed by NatureServe, an international biodiversity conservation organization. Combining data on abundance, population trends, and threats, the assessments classify species into one of five categories: Secure, Apparently Secure, Vulnerable, Imperiled, and Critically Imperiled. These conservation status ranks reflect extinction risk and are widely used by North American scientists, government agencies, and private-sector organizations.
Examining an index of conservation status, the researchers found that bats were recovering until 2000 due to concerted conservation measures, but then declined sharply due to the new 21st century threats, erasing previous gains (see graph).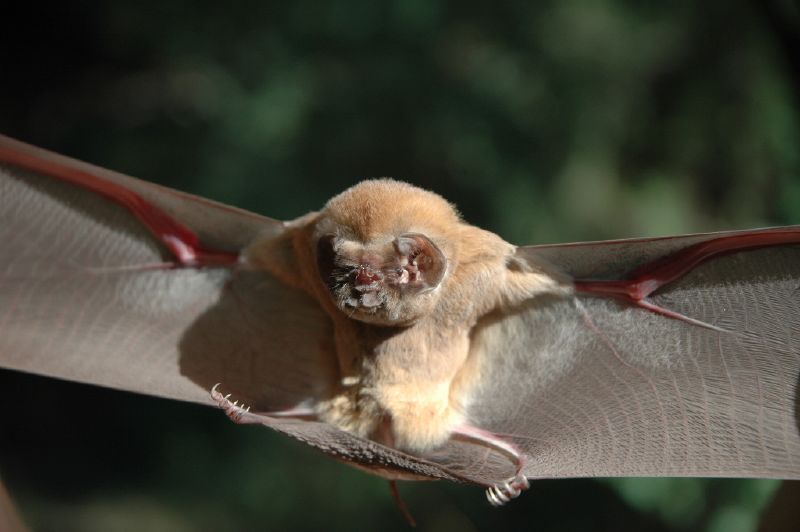 Zoologist Bruce Young, who participated in the study, noted, "The magnitude of this fifteen-year decline is significant-- as a third of North American bat species dropped an entire category, for example, from Vulnerable to Imperiled."
Although disease and wind infrastructure are the most pressing threats, bats are also declining because of conversion of their native habitats to agricultural and residential and commercial developments. Disturbances at caves remains a threat to some species. So far, scientists have not identified climate change as a major current threat to bats, although research is just beginning on this topic.
As history has shown, identifying the factors causing imperilment has spawned actions that can reverse declines. Let's hope the happens again with the new threats facing these animals that are as useful to farmers as they are inspiring to Hollywood writers.
To read the entire North American bat publication in PDF form, click here (http://bit.ly/nsbatspdf).
Funding for this project was made possible by the Regina Bauer Frankenberg Foundation.
About NatureServe
NatureServe is an international non-profit biodiversity conservation organization comprised of 86 Network Programs encompassing more than 800 biodiversity scientists who discover, innovate, and conserve over 70,000 species and 7,000 habitats in the Western Hemisphere. The NatureServe Network collects accurate, real-time data about imperiled species and entire ecosystems, transforms the data into knowledge products and visualizations, and provides meaning through expert analyses to guide decision-making, implement action, and enhance conservation outcomes. NatureServe diligently keeps its finger on the pulse of the planet, providing decision-quality knowledge to ensure the preservation of species and natural communities. Website: www.natureserve.org
Media Contact:
Todd Parks, NatureServe
Office: 703-908-1861
Email: todd_parks@natureserve.org