Over One-third of Biodiversity in the United States is at Risk of Disappearing
New report addresses nation's extinction crisis by providing data and conservation insights
[WASHINGTON, DC, February 6, 2023] During a time when species are going extinct faster than any period in human history, the survival of species and persistence of healthy ecosystems requires science-based decisions. A new analysis by NatureServe addresses five essential questions about biodiversity–the variety of life on Earth–that need to be answered if we are going to effectively conserve nature: 1) How many species and ecosystems are at risk? 2) Are species and ecosystems adequately protected? 3) What are the major threats to biodiversity? 4) Where is imperiled biodiversity concentrated? 5) Where do we go from here?
In the first report of its kind, Biodiversity in Focus: United States Edition reveals an alarming conclusion: 34% of plants and 40% of animals are at risk of extinction, and 41% of ecosystems are at risk of range-wide collapse. Because many protected areas prioritize geological features or landscapes of cultural significance instead of targeting threatened biodiversity, most at-risk species and ecosystems are insufficiently protected to prevent further decline.
Biodiversity in Focus leverages nearly 50 years of intensive data collection by NatureServe and the NatureServe Network, a collaborative of more than 60 programs that work together to develop, curate, analyze, and share information that can offer novel, actionable insights into biodiversity conservation. A major takeaway of the report is that to truly protect imperiled biodiversity, a range of on-the-ground data and analyses, including calculations of spatial overlap between individual species and specific threats, should be used to guide conservation decisions.
"For fifty years, the NatureServe Network has been collecting the information necessary to understand biodiversity imperilment in the United States. This new analysis of that data, a first in 20 years, makes crystal clear the urgency of that work," stated Regan Smyth, Vice President for Data and Methods at NatureServe. She continued, "Two-fifths of our ecosystems are in trouble. Freshwater invertebrates and many pollinators, the foundation of a healthy, functional planet, are in precipitous decline. Understanding and addressing these risks is critical if we are to forestall devastating consequences for the biodiversity that humanity needs to survive."
Because the data are collected in a standardized way and by local partners such as state authorities, the authors of the report were able to examine detailed patterns relevant to where at-risk biodiversity is found and why it is threatened across the United States. They found that habitat degradation, invasive species, dams, and climate change are among the primary threats to biodiversity in the United States. At-risk species are concentrated where threats are greatest, but species face different types and levels of threats in different regions of the country. For example, among pollinators, bees are particularly threatened, with 37% of assessed species classified as at risk. Bees in the West are more threatened than bees in the East.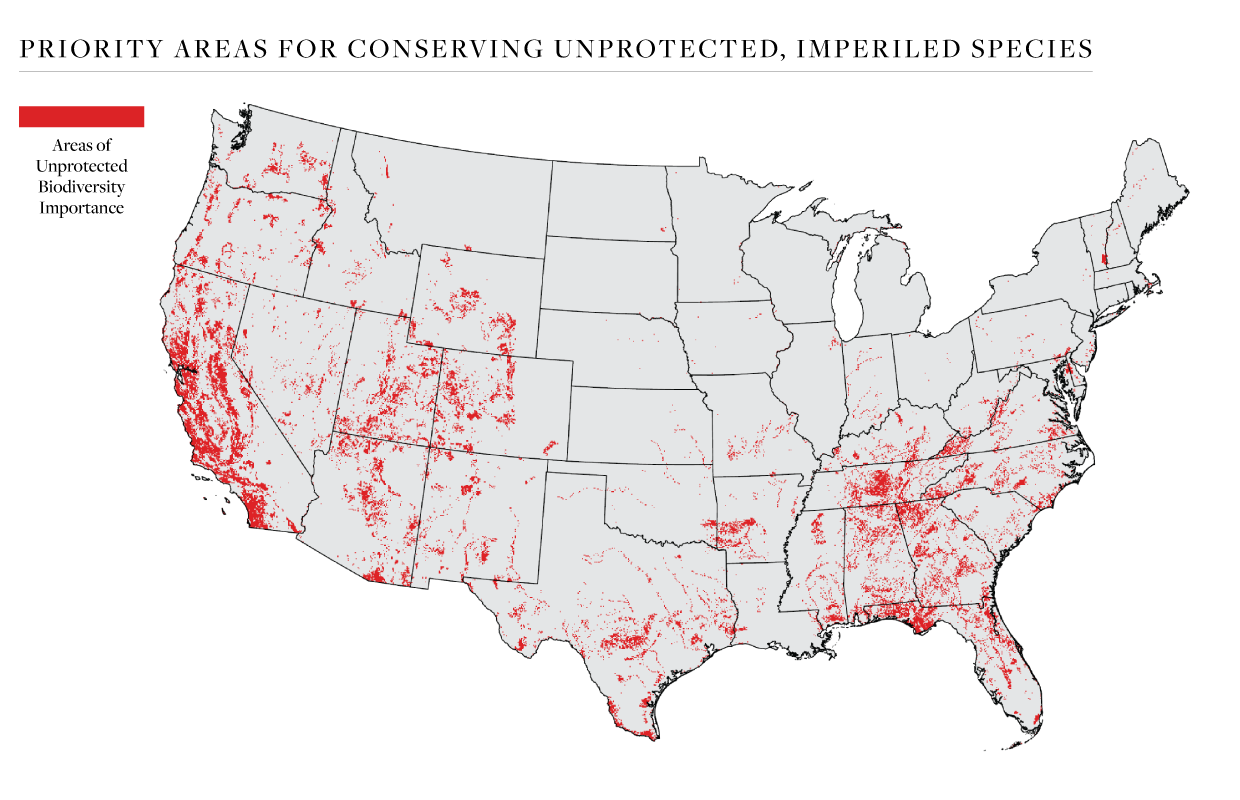 The authors also examined risks to ecosystems, documenting the impacts of centuries of land conversion and identifying ecosystem types at greatest risk. America's once vast grasslands and diverse, life-sustaining wetlands are highlighted as being in particular need of conservation attention.
Biodiversity in Focus shines a light on species and ecosystems in peril, allowing us to make plans to protect these precious resources. The analyses presented in the report inform how to effectively and efficiently use our financial resources to make the best conservation decisions. The 30x30 global initiative calls for the conservation of 30% of the planet's land and water by 2030. Meeting this goal requires investments in land acquisition and management to maximize value for biodiversity conservation. Those investments need to be targeted where they can have the greatest impact, and this report helps spotlight the species, ecosystems, and locations where resources are most needed. Strategies that protect the full diversity of natural ecosystems can be complemented by strategies that address the needs of individual species at risk of extinction.
"We are currently experiencing and causing the Sixth Extinction—the mass extinction of species across the planet. NatureServe's data highlight where the threats are right here at home," stated Dr. Sean T. O'Brien, President and CEO of NatureServe. He continued, "The plants, animals, and ecosystems found in our state, tribal, and federal lands are key components of our cultural and natural heritage. We should be proud of the biodiversity in our backyard and should prioritize protecting what is here, now."
To access the full Biodiversity in Focus, U.S. Edition report visit: www.natureserve.org/bif