What's in a Name? Trials and Tribulations in Plant Taxonomy
The emergence of genetic and molecular analysis has thrust plant taxonomy—the science that describes, classifies, and names plants—into an era of unprecedented reformation. This rapid evolution in plant taxonomy has been accelerated by discoveries of new plants, new capacities of herbarium resources, and national initiatives (such as the Flora of North America project) that compel scientists to reconcile lingering taxonomic questions.
NatureServe's efforts to guide effective conservation action hinge on a firm command of plant taxonomy. Decision-makers rely on our taxonomic decisions in order to understand which plants are out there, where they are located, and how they are doing. This information helps government agencies, corporations, and other conservation groups determine which plants and populations merit action to protect them.
Countless plant names have changed over the past 40 years, when the first of NatureServe's natural heritage programs launched. Plants long thought to belong to one species were later determined to consist of several, whereas species thought to be distinct have been found to be mere varieties or environmentally induced forms of a single species. These taxonomic revisions clarify what is rare and what is common—and by manifesting in NatureServe's data, they have far-reaching implications, ultimately determining which species and which sites become conservation priorities.
In order to ensure that conservation resources are aimed at the plants that are truly unique elements of biodiversity, NatureServe scientists seek out and review taxonomic literature, incorporate it into our botanic and ecological databases, and affirm our unique role in chronicling conservation status. This work falls under four categories:
Keeping track of plant names, synonyms, and associated taxonomic revisions, especially when different parties and historical records use different names (the Cumberland sandwort)
Adding and tracking species previously unknown to science (the piedmont fameflower and the Yosemite bog-orchid)
Assessing and updating species designations that are affected by newer taxonomic understanding (Menges' fameflower)
Identifying and removing plants that scientists no longer accept as distinct from other species (the Bladen buttercup);
The following are just a few examples that illustrate these taxonomic challenges, their broader consequence for conservation, and the need for an increased focus on plant taxonomy.
The Cumberland Sandwort: Two Names for the Same Plant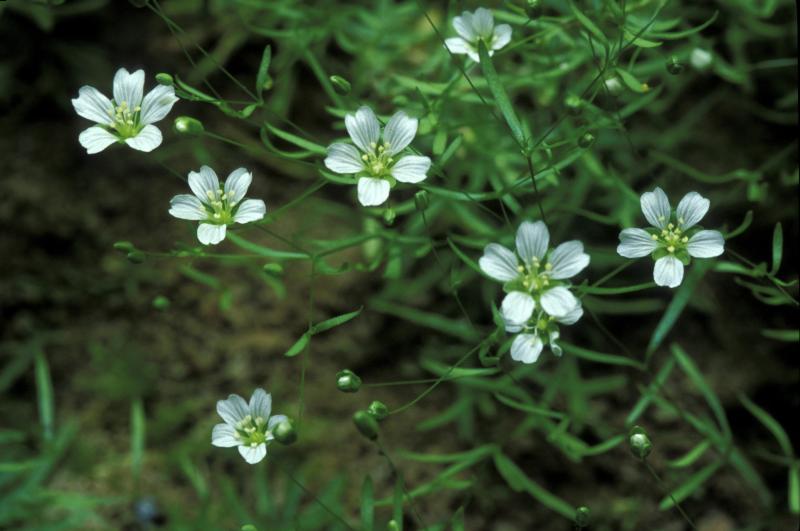 Isolated to the Cumberland Plateau of north-central Tennessee and adjacent Kentucky, the Cumberland sandwort (Minuartia cumberlandensis) can only be found in unusual cave-like sandstone overhangs known as rockhouses. NatureServe's ranking system considers the species to be globally imperiled (G2/G3) with 65 known occurrences. The federal government lists the plant as Endangered under the U.S. Endangered Species Act—but uses the scientific name Arenaria cumberlandensis. Since most other sources of information for this species, including the Flora of North America, accept the name Minuartia cumberlandensis, NatureServe must continue to maintain both names so that parties looking for information about the species will find what they need regardless of which name they use.
The Yosemite Bog-Orchid: Misunderstood for 84 Years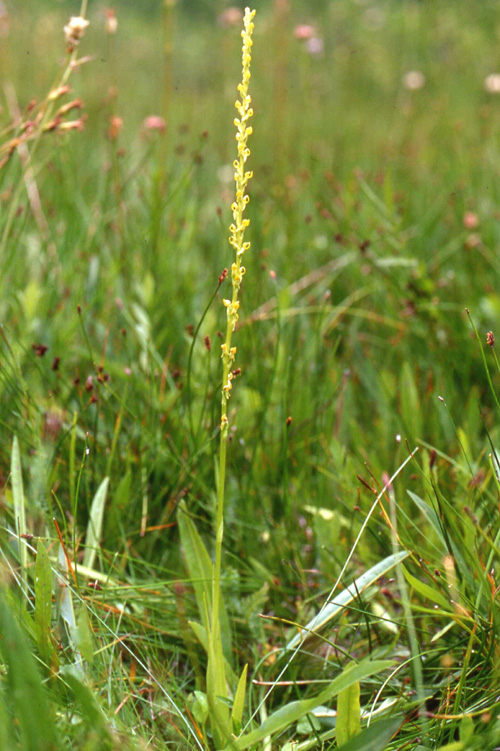 In 1923, a field expedition in Yosemite National Park came upon a population of bog-orchid, which scientists identified as the purple-petaled bog-orchid (Platanthera purpurascens), a species known from hundreds of miles away in the southwestern United States. With a wide presence in the Southwest, the species was not considered globally rare. Re-examination of the California population in 2007 found it to be a species new to science, and it was subsequently dubbed the Yosemite bog-orchid (Platanthera yosemitensis). Because the discovery of the new species came after the publication of the Flora of North America treatment of orchids in 2002, the Yosemite species does not appear in that seminal volume. However, the California Native Plant Society has classified the species as "rare, endangered, or threatened" in California and appears in NatureServe Explorer as the rare plant that it is.
The Piedmont Fameflower: What One Plant's Discovery Can Mean for a Long-Standing Species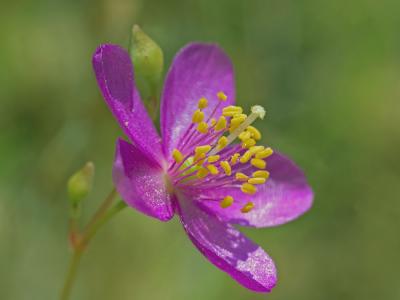 Two teams of botanists—one from the North Carolina Natural Heritage Program and the other from the Virginia Natural Heritage Program—independently discovered populations of fameflowers (genus Phemeranthus) in the early 1990s. The team in North Carolina discovered a plant they thought to be a new population of the rare Menges' fameflower (Phemeranthus mengesii). The Virginia team believed they had come across a common species, the quill fameflower (Phemeranthus teretifolius). Because of their connection through the NatureServe Network, the botanists soon discovered the plants' similarities to each other and differences from both the Menges' and quill fameflowers. In 2011, the teams announced a wholly new species: the piedmont fameflower (Phemeranthus piedmontanus).
What affect did this have on Menges' fameflower? Discovery of the piedmont fameflower meant that the known range of the Menges' fameflower—thought to extend from North Carolina to Georgia and to Alabama—was in fact far more restricted. This in turn means that land managers may have to reevaluate the species altogether. NatureServe, meanwhile, must make sure to convey this correction to its data users. A taxonomic update is critical in order to communicate this information to the parties who need it.
The Bladen Buttercup: A Plant Worthy of Protection?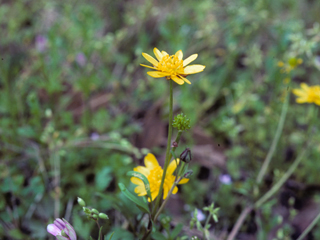 Sometimes, taxonomic revisions help lift protections where they are not needed.
In 1971, the Bladen buttercup was described as a new species, known from only two sites in North Carolina. Because this species was thought to occur nowhere else in the world, those sites were identified as sites of conservation concern. A decade later, further taxonomic study showed that the flowers were actually the same as the Mississippi buttercup (Ranunculus laxicaulis) found throughout the eastern United States, which does not have the same ecological significance with which the Bladen buttercup was bestowed upon its purported discovery. But once the Bladen buttercup was deemed to be taxonomically identical to the Mississippi buttercup, the sites were no longer considered locations of global conservation significance—and the resources being expended on those two sites could be directed elsewhere. Removing protections from species that don't need them is just as important as declaring certain species as being in need of protection.
Significant contributions were made to this article by:
J. Christopher Ludwig (Virginia Natural Heritage Program, chief biologist), Alan Weakley (University of North Carolina Herbarium, curator; University of North Carolina at Chapel Hill, adjunct professor), Bonnie Heidel (Wyoming Natural Diversity Database, lead botanist), Roxanne Bittman (California Natural Diversity Database, botanist-retired annuitant), Aaron Sims (California Native Plant Society, rare plant botanist), Kristi Lazar (California Natural Diversity Database, lead botanist), Erin Chen (NatureServe, chief development and engagement officer), Gwen Davis (NatureServe, information scientist)