Locality Data for Northeastern U.S. Hawk Moths
A Compilation of Hawk Moth Records from 1900-2012
Overview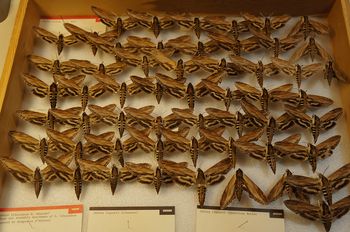 Hawk moths, also known as sphinx moths or hornworms, are large, powerful fliers, achieving sustained speeds of 12 mph. They are one of the few flying organisms able to hover in place, a behavior that allows them to pollinate flowers on the wing. Some species undergo seasonal long-distance migrations. Many species have a remarkably long tongue, which allows them to feed on nectar from long, tube-like flowers. Hawk moth caterpillars also serve an important function in their environments where they are preyed upon by insect-feeding birds, which in turn feed the caterpillars to their nestlings.
Inspired by preliminary evidence suggesting that several species have undergone recent declines in the northeastern United States, NatureServe compiled information on records for 26 hawk moth species from specimens held at nine natural history collections and 14 academic and private hawk moth collectors. These records are made available here for the scientific public.
Value
These data allowed for statistical analyses, using generalized linear mixed models, of the likelihood that each species studied increased or decreased in the study area during the period 1900-2012.
Features & Benefits
The MS Excel spreadsheet contains information on species, date collected, locality, county, and collector. The geographical extent of the data covers the northeastern U.S. including the six New England states (Maine, New Hampshire, Vermont, Massachusetts, Rhode Island and Connecticut) plus nearby New York (Long Island and the counties bordering the Hudson River) and northern New Jersey.
Download the database of northeastern US hawk moth records