Species Population Location Information for Informed Decisions, Modeling, and Analysis
Overview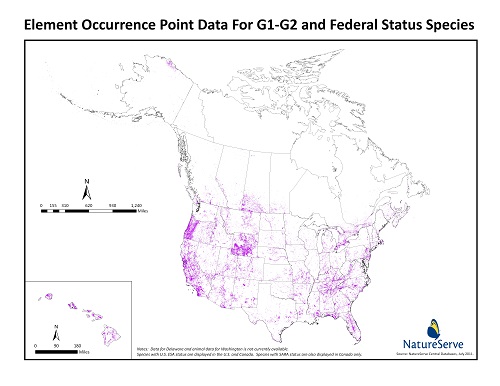 NatureServe's foundational dataset includes more than 900,000 location records (element occurrences) from our Network of biological inventories operating in all 50 states and in most of Canada. Over four decades, this network has collected and managed detailed local information on plants and animals of conservation concern and has become a leading source for information about North America's endangered species. NatureServe offers one-stop access to this information from throughout the region.
Value
​Representing the best available information on the known location, viability, and other information on at-risk species populations, this nationally significant dataset is essential to regional and local analyses, decision-making and planning.
Features & Benefits
National Analyses
One example of a national analyses is our "Rarity-Weighted Richness for Imperiled Species," which combines overall species richness and relative rarity (based on restricted distributions) to highlight locations that are essentially irreplaceable in terms of biodiversity.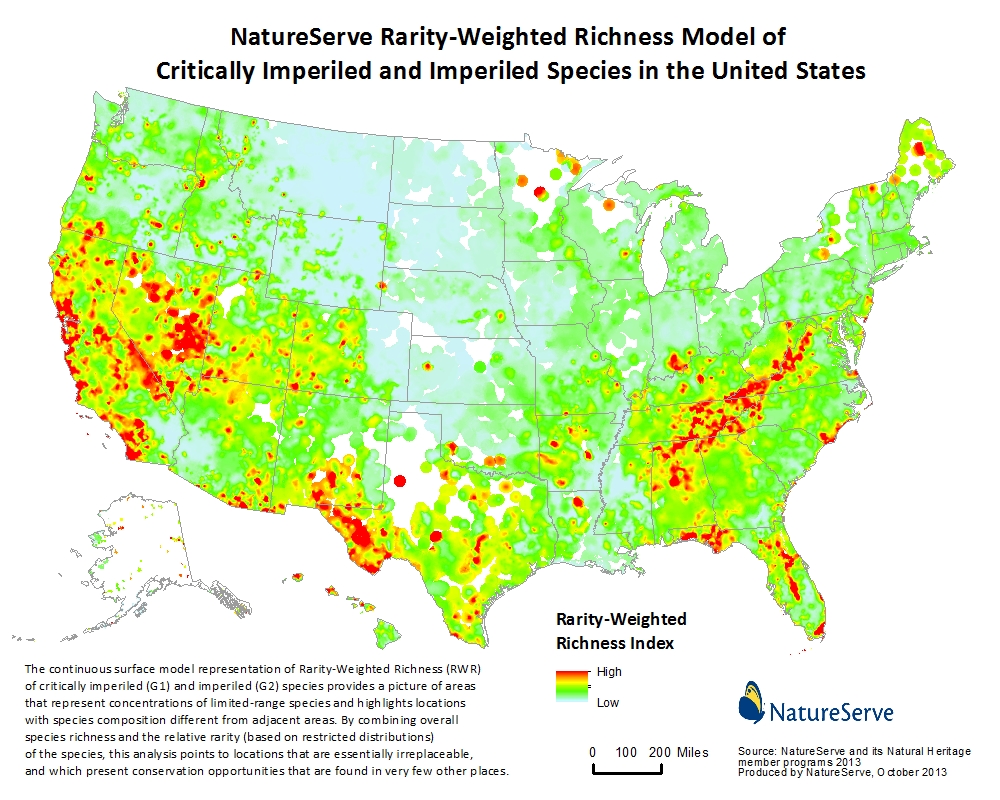 Predictive Modeling
NatureServe has extensive expertise in modeling the predicted distribution of at-risk species based on our known location data, providing a powerful tool for planning and assessment. The NatureServe Network can readily create these models for endangered and other at-risk species across the United States. A typical approach to mapping endangered species (the image at right) combines precisely known locations (red dots) with broad estimates of where that species could potentially occur, resulting in a large "predicted" area; NatureServe's predictive distribution modeling also uses known locations as a starting point, but provides much more precise and accurate information about where a species is likely to occur (below).

Types of Access
Precise shapefiles
Summarized information by counties, watersheds, gridcells (e.g. a four-square-mile grid)
Custom products, such as datasets, analyses, models and maps