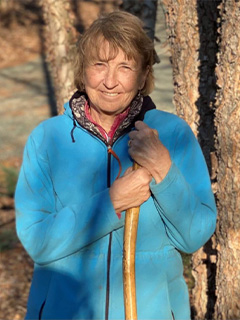 Nancy Weiss
Nancy's childhood was spent at the New Jersey shore outside swimming, biking, and bird watching, or else inside practicing music and reading. In high school, besides studying, she sang with the All-State chorus and simultaneously played flute in All-State band. This prepared her well for four years at Swarthmore College. She chose Swarthmore because the campus is an arboretum and she loves trees. Again, she spent as much time outside as possible. She followed this with four years at Temple Medical School. After her internship, she decided to specialize in surgery and moved to Massachusetts in 1973 to complete her surgical training.

She soon fell in love with the climate and topography of Massachusetts and made friends in the music and natural history communities. She bought 80 acres of forest land to teach herself about forest management first-hand. She became friends with Bob Leverett, who is considered the go-to guy in Massachusetts for anything having to do with trees, especially old-growth forests. They spent many happy hours together, trying to find the biggest and tallest trees in Western Massachusetts.

Because of her concern for habitat preservation, she served on the Massachusetts Advisory Board of the Nature Conservancy and still serves on the Massachusetts Audubon Society board of directors as an honorary member. She purchased and donated four tracts of land (about 600 acres) for preservation, giving them to four different land protection organizations.

She has since retired to Charlottesville, Virginia. She loves it there, too, as she has almost all of her Massachusetts species as well as new ones. She joined the board of the 500 Year Forest Foundation as its mission followed her interest in old-growth forests, and she continued her board membership with the American Bird Conservancy.

She continued learning about the natural world, becoming a certified tree steward and a Virginia Master Naturalist.

At her home, she has five acres enclosed by a deer excluding fence in which she has rooted out the invasives and planted only species native to the area. For the past few years, she has been an active member and chair of the Natural Heritage Committee of Albemarle County. The committee is charged with advising the Board of Supervisors on policy concerning the county's 465,000 acres of land. They are currently working on light pollution, zoning in the rural area, and establishing a tree commission. Work on projects for this committee as well as leading field trips about the forest, birds, butterflies, and most recently on tracking, keep her happily engaged with the outdoors.