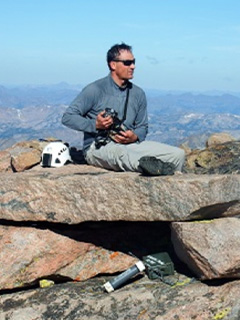 Bryce Maxell
Bryce received a B.S. in Biology and a B.A. in Economics from the University of Puget Sound in 1994, where he completed a demographic study of seaweeds and an economic analysis of the impacts of the city of Victoria's sewage disposal.

He was then awarded a Thomas J. Watson Fellowship for a year-long independent study of the natural history and management of the flora and fauna in Australia and New Zealand, where he worked extensively with Australia's Commonwealth Scientific and Industrial Research Organization and Institute of Marine Science and New Zealand's Department of Conservation and the University of Auckland's Marine Lab.

He received his Ph.D. in Fish and Wildlife Biology from the University of Montana in 2009, where he completed a demographic study on the Columbia spotted frog (Rana luteiventris), conducted a statewide inventory of amphibians and aquatic reptiles, and used that information to create predicted habitat suitability models for the amphibians and reptiles of Montana. Bryce has coauthored three books on the amphibians, reptiles, and birds of Montana and is working on a coauthored book on the bats of Montana. He has authored or coauthored 14 peer reviewed journal articles and over 47 professional reports on seaweeds, amphibians, reptiles, bats, small terrestrial mammals, birds, and terrestrial mollusks.

Bryce has been associated with the Montana Natural Heritage Program since 1996, starting as a Field Zoologist, collaborating with the program during graduate school, leading the Zoology Program for over 11 years, and leading the program for five years. During his 23-year association with the Montana Program, he is most proud of the database structures and automated procedures his team put in place to deal with large volumes of data efficiently and development of the program's Map Viewer and Field Guide websites. Bryce has served on the U.S. Section Council since January 2017 and has led several surveys that have summarized the housing, organization structure, funding, staffing capacity, guiding statutes, unique assets, and critical challenges faced by individual programs, with the goal of strengthening the network and leveraging network assets. His program has led efforts to create a Common Field Guide platform that network programs can use to launch field guides for species and biological communities in their jurisdictions and is helping other programs launch their own observation databases.