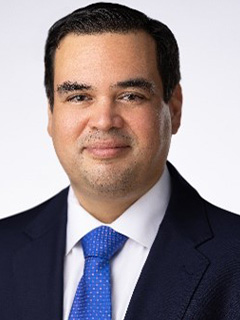 Francisco Carrillo
Francisco serves as Senior Director of Federal Government Relations for Pfizer, a role he has held since May 2021. He is responsible for the company's outreach to House Democrats and focuses on policy issues related to patient access and affordability.

Prior to joining Pfizer, Francisco was the District Director for Congresswoman Nanette Barragan from 2018 to 2021 and served as her Acting Chief of Staff from 2019 to 2020. He previously served in the Obama Administration from 2009 to 2017.
He held several positions at the U.S. Department of the Interior, including Deputy Director for Intergovernmental and External Affairs, and worked on several Secretarial initiatives, including America's Great Outdoors and the Latino Heritage Preservation program.
He also served as the Deputy Assistant Secretary for Intergovernmental and External Affairs at the U.S. Department of Energy.

Francisco began his career on Capitol Hill as a staff member in the Office of Democratic Leader Nancy Pelosi. He also served on the House Committee on Appropriations, Subcommittee on Financial Services, and General Government. Francisco has also worked for the City of Los Angeles and for UCLA in their federal government relations offices.

Francisco earned his Bachelor's degree in Political Science from UCLA and a Master's of Science degree in Environmental Science and Policy from Johns Hopkins University. He and his wife Felicia and their two young sons live in Silver Spring, MD.