NatureServe Celebrates Outstanding Network Members
---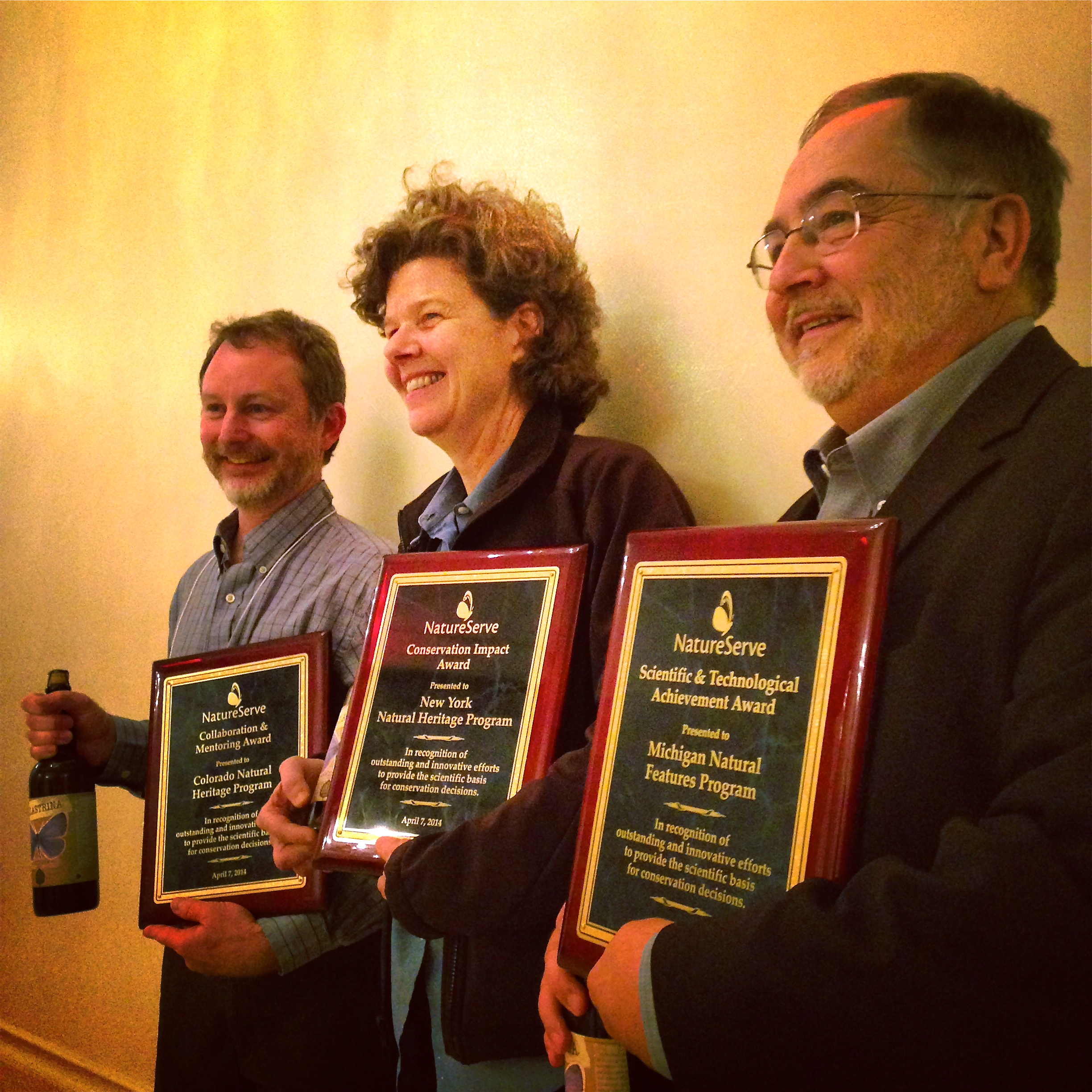 The New York Natural Heritage Program, the Michigan Natural Features Inventory, and the Colorado Natural Heritage Program earned the NatureServe Network Awards for 2014, which were handed out last night at NatureServe's Biodiversity Without Boundaries Conference in New Orleans.
Nominated by their peers and chosen by a NatureServe selection committee, the Network Awards recognize outstanding recent achievements and give the network an opportunity to celebrate its commitment to science-based conservation through collaboration, personal and scientific integrity, and the creation of high-quality data, tools and knowledge.
Two efforts stand out among the array of projects of NYNHP has been conducting  conservation impact: First, their mapping and modeling work on endangered species, and their role in helping develop and spread the iMapInvasives tool for tracking invasive species.
MNFI has taken on an array of work that is helping protect bats and migratory birds from the surge in wind farm development. Their efforts have bolstered on-the-ground conservation by better informing regional, state and local planners—and even brought to light new bat mortality patterns associated with wind turbines.
Colorado NHP continues to show a wide-ranging ability to assist and participate in the work of partner programs, carving out a place as a "go-to" heritage program that actively seeks out collaborations to strengthen the entire network. Of particular note was their innovative partnership with Odell Brewing Company that has helped conserve a rare species, the hops blue butterfly.
Alumni Award
The April 7 reception was also an opportunity to commend one of our outstanding alumni Shane Ford, former head of the British Columbia Conservation Data Centre (2005 to 2009) and served on the Executive Board of NatureServe Canada. He was part of several Nature Conservancy Eco-regional Assessments and has contributed to strategic and product development at NatureServe. He is also a member of the NatureServe Alumni Leadership Group.
Shane has worked for the British Columbia provincial government since 1998, including positions in land-use and biodiversity planning, species-at-risk assessment, and parks programming. He is currently a Project Assessment Officer at the British Columbia Environmental Assessment Office. His ongoing volunteer work includes a professional association, a neighbourhood association, and a preservation society.
"Shane has a deep and authentic commitment to the NatureServe Network, the community he serves in British Columbia, and those he has yet to meet or never will meet," said Don Kent, NatureServe's director of network relations. "His passion for conservation, sustainable natural resource management, and people is a model for all of us."
¡Map-Mapa-Carte! Contest Winners
We hosted our first ever conservation map contest at BWB 2014. The contest theme was (as broad as) our mission: a network connecting science with conservation, and maps were expected to tell a story about some facet of conservation work. A panel of judges evaluated the maps on how well they conveyed complex conservation/scientific information in a simple, intuitive, visually compelling format, and then we opened up voting to BWB participants. After everything was said and done, the winners were: