Kevin Doyle of Wisconsin DNR named first Larry E. Morse Botany Fellow
Inaugural plant conservation fellowship honors late chief botanist
---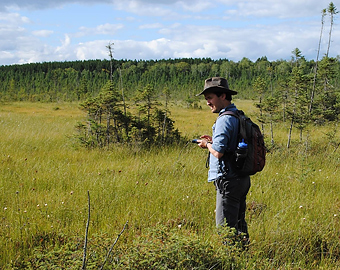 NatureServe is pleased to announce that Kevin Doyle, the natural heritage botanist at the Wisconsin Department of Natural Resources, is the inaugural recipient of the Larry E. Morse Visiting Botanist Fellowship. The Botany Fund was established in 2012 to honor Larry E. Morse, his long-standing commitment to plant conservation, and dedication to mentoring botanists at all ages and career stages.
Doyle comes to the Fellow position with many years of experience in plant conservation and academic research, and a deep knowledge of Wisconsin's flora. In addition to the statewide scope of his fieldwork, he has mapped more than 500 locations of at-risk plants and developed information that is used by a broad cross-section of the state's agencies, landowners, and businesses to help conserve the state's most imperiled plants.
As the first Larry E. Morse Botany Fellow at NatureServe, Doyle will review the conservation status of approximately 370 species of plants native to Wisconsin. This work will include updating status ranks in our global database, and identifying key threats, issues, and conservation actions necessary to elevate plants to the same level of protection afforded to animals in the Wisconsin Wildlife Action Plan. We look forward to supporting Doyle's efforts, and are confident that the results of his work will significantly advance the science behind plant conservation, while continuing the legacy of Dr. Larry E. Morse.